Lady Statesmen Defeats Shorter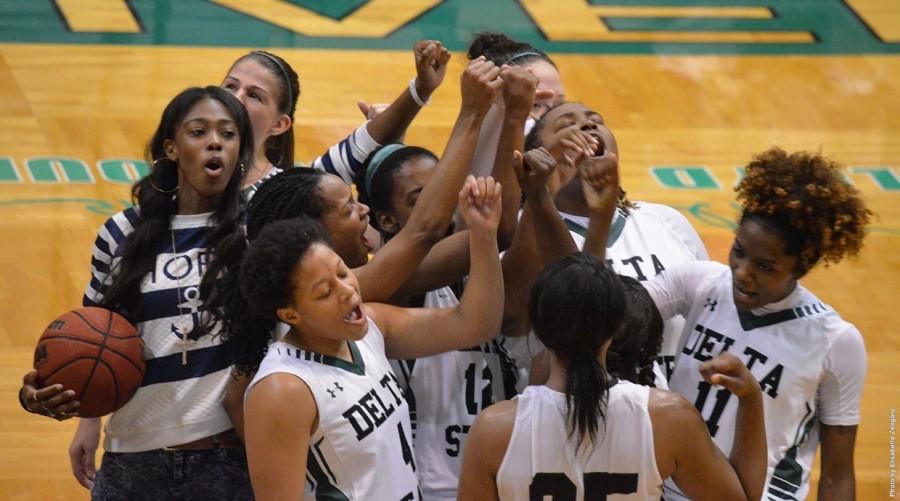 CLEVELAND, Miss. — 
Senior 
Chelsey Rhodes
 tied her career-high with 34 points to lead Delta State University (18-5, 15-5 GSC) to a 49-38 win over Shorter University (17-8, 14-6 GSC)
on Thursday
at Lloyd Clark Court-Walter Sillers Coliseum. The victory moved DSU one step closer to securing a home game in the upcoming Gulf South Conference Tournament's first round.
The Lady Statesmen jumped out to an 8-1 lead after a pair of 
Aspriona Gilbert
 free throws with 
5:08
 left in the first quarter and closed the final 
4:52
 of the quarter 10-5 run for an 18-6 lead.
DSU and Shorter struggled offensively in the second quarter, combining for seven points, as the Lady Statesmen held a 21-10 half-time lead. Delta State shot 39.1 percent in the first half, connecting on 9-of-23 shots from the field and just 1-of-4 from 3-point range. Shorter managed a meager 19.0 percent on 4-of-21 from the floor.
Chelsey Rhodes
 led all scorers at the break with 15 points. SU's Shakeirya McClendon had four to lead the Lady Hawks.
In the third quarter, the Lady Hawks outscored the Lady Statesmen 13-10, as Shaundricka Mann helped ignite SU's offense. Rhodes found her rhythm again in the fourth quarter, as Delta State finished the final 10 minutes out-pacing Shorter 18-15 to make the final 49-38. SU finished the night shooting 29.3 percent (12-of-41), while making 3-of-11 from 3-point range and 11-of-18 at the line. DSU closed the night hitting 42.1 percent (16-of-38) with 3-of-7 (42.9 percent) coming from 3-point range and 14-of-22 at the line.
Statesmen defeat Shorter Hawks 86-71