Statesmen Drops the Ball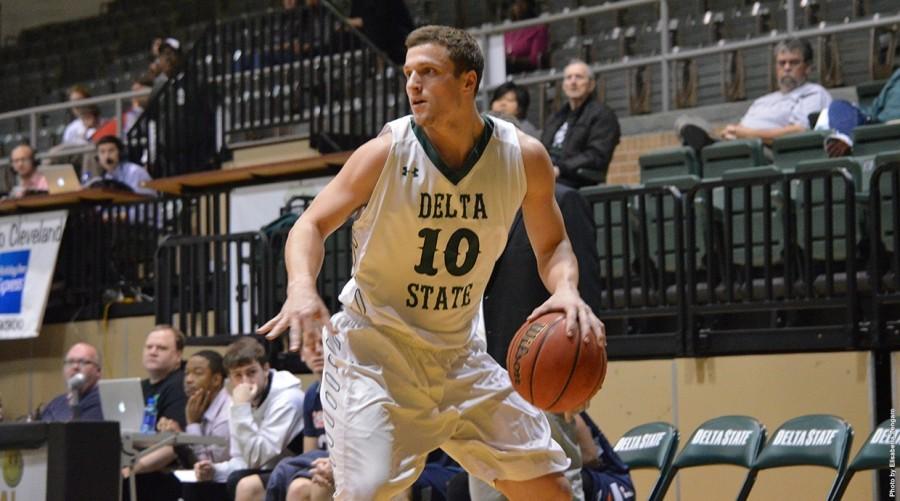 JACKSON, Tennessee. – Despite a comeback-effort during the second half, the Delta State University men's basketball team dropped its third straight game in a 51-48 loss to Union University on Thursday at Fred DeLay Gym. Two Statesmen scored in double digits. Devin Schmidt led the team with 16 points, followed by freshman Brett Warner, who had a career-high 15.
The score was tied seven times during the game. Union out rebounded Delta State 38-33. Both teams struggled to make shots, but protected the ball in the game, managing just a combined 11 turnovers (6 by DSU).  Union was led by Materrance Brock with 16 points. Ashanti Day added 11 points and 15 rebounds. Union shot 31 percent from the field, 21 percent (6-29) from 3-point range and 61 percent (11-18) from the free throw line. Delta State shot 37 percent from the field, 36 percent (4-11) from long range and 75 percent (12-16) from the free throw line.
For the first time since Jan. 29, 2015 the Green and White have lost three straight contests. Union improved to 14-6 on the season and 8-6 in the Gulf South Conference. Delta State dropped to 11-7 overall and 8-6 in league play.