Most Beautiful Pageant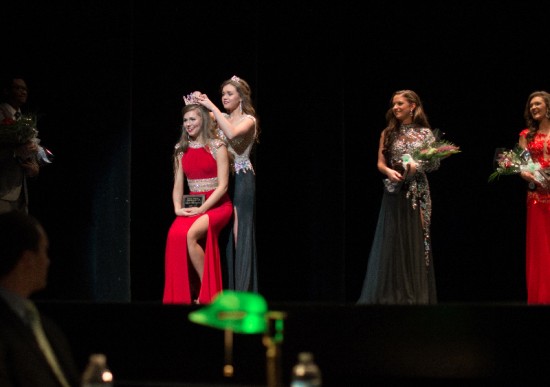 The Student Government Association (SGA) presented the 2016 Most Beautiful Pageant on Feb. 23, in the Bologna Performing Arts Center.
Emily Adams took the title of Most Beautiful and Most Photogenic.
The top beauties were Katie Stover, Morgan McClure, Briana Sturgis, and Leah Green.
The top ten finalists were Leah Green, Brinkley Henry, Briana Sturgis, Emily Grossi, Haleigh Ash, Breana Bess, Haley King, Katie Stover, Emily Adams, and Morgan McClure.
The program started with the parade of beauties. Don Allan Mitchell, Interim Chair of the Division of Languages and Literature, was announced as the master of cermony for the night as well as the judges and auditors. The contestants captivated the crowd with their outstanding dresses and contagious smiles during the evening gown competition.
For entertainment, there were two performances. The performers were Allie Rose Parker, Hunter Webb, Gillian Oakley, Brennan Barham, and Carrie Lynn Stanford.
Dr. James Robinson was the pageant musician.
The pageant director was Bevin Lamb and the student director was Reed McNeer. The pageant board included: Rose Parker, TJ Hendrix, Madison Ennis, Letia McGee, Meagan Vogelsang, Emily Gross, Allison Watkins, Alandria Ramsey, Savannah Green, Breanna Bess, Ivy Spradling, Brinkley Henry, Shelby Tuttle, Carter McNeer, Lanie Little, Katie Busby, Victoria Burton, and Rachel Fuller.
At the end, Mitchell thanked the directors and pageant board for their work, the musicians, and Cleveland Floral for donating flowers.