There's a New Sherriff in Town
After serving for nearly 25 years on the Delta State police force, Chief Lynn Buford retired on January 17, 2017. Now, there's a new sheriff in town, Chief Jeff Johns.
In light of the new hire, The Statement reached out to Chief Jeff Johns to help students and faculty get to know him a little better. This transcript has been edited for clarity and length.
Can you tell me about your background?
I've spent the last 28 years in law enforcement. I started in Jackson as a deputy sheriff, and I worked for the state of Mississippi for a brief time before going back to being a deputy sheriff at Hines County Sherriff department. I also had the opportunity to go and lead the Mississippi Criminal Justice Association for six years which educates judges, prosecutors, youth core personnel etc. Shortly after, I went to Holmes Community College where I was the chief for 10 years and in charge of public safety.
What inspired you to join the police force?
When I was a kid, I had a neighbor who was a police officer with the Jackson Police department. It's odd, I've never worked for a city police department. I've always worked for either the state, county, or higher education. I like higher education better because there is a uniqueness about the small campus community that really appeals to me.
Why did you choose Delta State?
Well, my daughter graduated from Delta State and my family is from the Delta. Delta State has a special place in our hearts and we're proud to have a graduate from here. It's a small institution, and the Delta culture has always appealed me to come back. There's a cohesiveness between the town and the university it's small enough that you can feel the personality throughout the campus. Cleveland and Delta State just have a unique culture. There's a number of signature programs like aviation and DMI and other venues around town like the GRAMMY museum are awesome. There are just so many different things you can list about Delta State that not many other institutions offer.
What are your plans to improve Delta State?
There are a number of initiatives that we have planned. We want to provide simple safety steps to everyone for both emergency situations and everyday life. Education by the police department will be a strong push for me. We want to educate the faculty, staff, dorm residents, commuters, and everyone else. Also, we are working to create posters, bookmarks, and others platforms of information that contain references to help people in emergency situations. We are also changing the proprietary camera system to an enterprise camera system. It is more efficient and cost effective for the university.
What would you like to say to students that may not know you?
Hopefully they find that I am approachable. Law enforcement is not solely here to enforce the law even though it is one of our primary responsibilities. Campus police have a uniqueness of being primarily charged with the safety of the institution. I would hope students know that my door is open if they have questions about safety, the university, or even if they have a problem (on or off campus) that relates to law enforcement. We're here as an intermediary to help them understand how the system works.
About the Contributor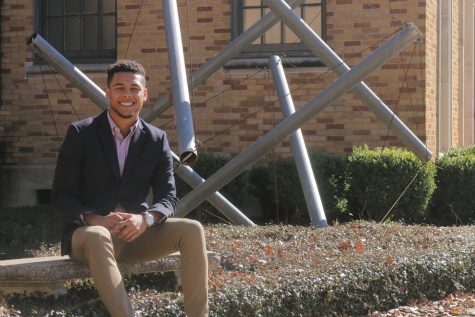 Nick Houston, Editor-in-Chief
Nick Houston is a Senior English major from Slidell, Louisiana. This is Nick's second year on the Delta Statement staff. A part from school, Nick is in...