Taking the Road Less Traveled
"The Road Less Traveled" by Robert Frost
Two roads diverged in a yellow wood,
And sorry I could not travel both
And be one traveler, long I stood
And looked down one as far as I could
To where it bent in the undergrowth;
Then took the other, as just as fair,
And having perhaps the better claim,
Because it was grassy and wanted wear;
Though as for that the passing there
Had worn them really about the same,
And both that morning equally lay
In leaves no step had trodden black.
Oh, I kept the first for another day!
Yet knowing how way leads on to way,
I doubted if I should ever come back.
I shall be telling this with a sigh
Somewhere ages and ages hence:
Two roads diverged in a wood, and I—
I took the one less traveled by,
And that has made all the difference.
"The Road Less Traveled" by Robert Frost is one of the most intriguing poems of its era. While leaving readers feeling motivated and challenged by the hidden messages in the poem, Frost's poem still remains one of the most misunderstood poems of this generation.
The reader can empathize with Frost's decision since he has to choose between two paths without knowing where each road leads. Furthermore, Frost decides to take the road less traveled, which emphasizes Frost trying to find who he is and finding his way in society.
Given that Frost didn't know which path was the best for him, taking the one less traveled is risky. Consequently, Frost takes the risk of not knowing what his life is going to be like on the road less traveled.
He also did not distinguish the paths from one another after he chooses the one less traveled and his determination to make his own way through society by not following anyone's footsteps.
What is so great about "The Road Less Traveled?" Everyone can relate their life story to the poem. Either you have decided to make decisions on your own or to make your own path and not be a follower. The poem's main theme is taking chances and being yourself even when no one else in society understands you.
About the Contributor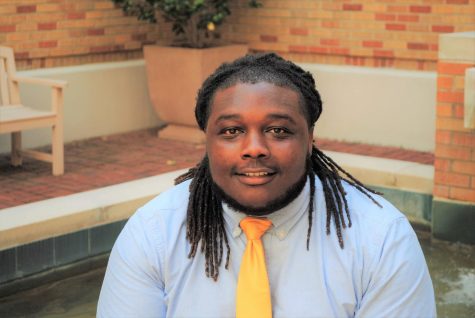 Dearron Stewart, Staff Writer
Dearron, an English Education major, transferred to DSU from East Central Community College. As his career, he is aiming to become a professional English...