Change of Location: The House Show Scene in Cleveland
After nearly two years of hosting house shows, the popular local venue 606 held its last show. The residents have all moved, and the house is now empty. Located on S. Court Street near campus, 606 seemed an ideal place for house shows. Regular attendants of shows are wondering where and if the next location for shows will be.
Residents of a house on Lamar Street attempted to host a show back in February. The Lineup included local band Sage Boy and two bands from Jackson. The show had a solid turn out, and people filled the room. However, three songs into Sage Boy's set, the Cleveland PD arrived to shut the show down. Someone suggested turning the volume down to see if they could keep it quiet enough to continue the show. After a few attempts, the band failed to find a volume gentle enough to appease the police and neighbors.
Celeste Lehr, who performs electronic music under the name Argiflex and was involved in booking many of the bands that played 606, has been working on finding a new venue since well before 606 closed down. In October, she booked Nonconnah, an ambient act from Memphis, to headline the first show at Marlow's, a house out in Rueville. Marlow's only nearby neighbors are trees and fields, so the volume level managed to not be an issue. While the show was relatively low in attendance compared to most 606 shows, Celeste was satisfied with it as a starting point for new venue opportunities.
On December 19, Celeste booked a web streaming show in her home studio. The acts included herself, local rapper Baby C, and her longtime friend Taylor Shaw performing his recent rap project, Carter Slomax. A small number of local folk showed to support the acts in the flesh. According to Celeste, the number of people viewing the live stream was low, and she blamed herself for not promoting the show well enough. Despite the small crowd, the show was filled with energy. Baby C and Carter Slomax performed as if they were playing to a packed venue.
March 3, Celeste brought more acts to Marlow's.  The show was headlined by Beyond the Borders, a techno punk artist from Latvia, and Decide Today, an Anarcho Industrial Breakcore band from Cincinnati. Scout, a friend who had joined the two acts on tour, tweeted earlier that day when they had stop to get gas that Staz, the Latvian artist, had excitedly bought fried pickles at the gas station (which he was still eating by the time the show had started), and was taking pictures of pickup trucks driving by, and couldn't stop laughing while he did so.
At the show, Staz, who is tall with hair dyed mostly purple and multiple face piercings was happily and eagerly offering to share his fried pickles. This was only the second day of the tour, and Staz was showing a deep and sincere enthusiasm for being in the Delta that most locals would be confused by. Those at the show were delighted by his attitude. His perspective seemed to rub off on the small crowd, at least for the time that he was present.
Staz continually stumbled through his words in amazement at what he was experiencing: "I've never left Latvia before. I'm just a small artist there. Never would I have dreamed of being in a place like this, playing for people so far from my country, people excited to see me." From Staz's point of view he may as well have been playing for 100 people rather than the five that were there.
Both Decide Today and Beyond the Borders gave high energy sets. Toward the end of the Beyond the Borders set, Staz stopped once again to marvel at what was happening and where he was. "I feel so lucky to be here. This is really an amazing experience. Many people did not show up, and that's too bad. But it is too bad for them, not for us."
---
About the Contributor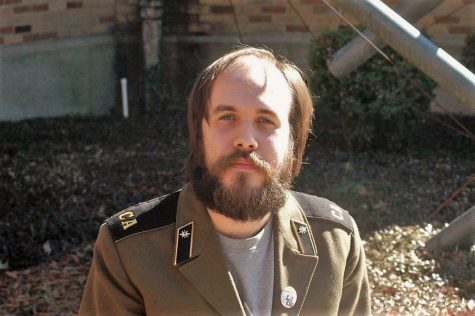 Kole Oakes, Delta Arts Editor

Kole Oakes, 25, is from Batesville, Miss., and studies English education at Delta State University. Kole is currently a senior and will be graduating...