Sunflower LGBTQ Community is Making a Difference
In Nov. 5, 2017, a crowd of people from all over China gathered outside the Yellow Dragon Sports Centre Stadium in Hangzhou, China at 6 a.m. They were there for one single goal: to join in the Rainbow Marathon.
The marathon was organized by the Sunflower LGBTQ community in Hangzhou and was the biggest marathon event in China that called upon LGBTQ rights. Rainbow flags flew, rainbows were printed on faces, and slogans plastered on picket signs in their hands. The marathon started at 7 a.m., with group dancing as warm-ups.
I witnessed the whole event through the Internet and felt overjoyed because something positive finally was done even under the current situation in China.
Earlier this year, a new regulation banned "abnormal sexual behaviors" on screens was released by China Netcasting Services Association (CNSA). The list released by the CNSA included homosexuality along with pornography, prostitution, and drug addiction. The public`s attitude towards the LGBTQ community are harsh. In the online posts towards the ban, most people gave a thumbs up. Oftentimes, people claimed that homosexuals were going to hell and even attacked them physically. China removed homosexuality from the health ministry`s list of mental disorders only in 2001.
Under extreme conditions, Ada, one of the founders of the Sunflower LGBTQ community, came up with the idea to organize a gay pride parade advocating LGBTQ rights in Hangzhou in 2010 after she joined some pride parades in the other parts of the world. Starting from scratch, she turned to the Internet to learn more things about organizing a pride parade. She attended LGBTQ related events where she met Doudou, who is another founder of the Sunflower LGBTQ community and a volunteer in Common Language (Tongyu), a non-profit organization aiming at combating violence and discrimination based on sexual orientations and sexual identity in Beijing. After that, she made a rough draft for her version of a parade in Hangzhou, where she met Yexi, the founder of Bi The Way bisexuality community in Taiwan, who pointed out the difficulties of her plans and gave her lots of advice on how to build a community.
Ada and Doudou met with similar goals to set up a local homosexuality community in Hangzhou where, "LGBTQ people can be embraced, friends will look after each other, and share their worries and struggles with each other," explained Ada. They put their ideas online to attract more people to join in the community and help local LGBTQ people.
In a little café, several founders including Ada and Doudou of the Sunflower LGBTQ community, held their first community meeting around a coffee table on Nov. 21, 2011. There have been more and more people making their contributions to this local community. Having entered its seventh year, Sunflower has held a diversity of events: A series of lectures focused on gender difference, love relationships, sexuality; a play, Monologue of Vagina, conducted and written by the members of Sunflower, concentrating on female subject consciousness and anti-sexual violence; a Rainbow concert that attracted people from a wide range of places in China, which made the community known and recognized to the public; and lots of educational and social activities.
I couldn't imagine how many hardships and troubles they have to go through to arranging and keep this community going.
Ada explained several problems they experienced. "We've encountered millions of problems while raising funds, looking for places for activities, and even making our community survive. We couldn't work out these problems alone. It is the volunteers who keep our community moving further, and they shall take all the credit for all the achievements we've made so far. I feel delighted and grateful to see so many people, whether they are members of LGBTQ or heterosexual people, have stood out and joined us to support equality on sexuality and our community."
After years of preparation, the pride parade Ada wanted to throw for the longest time finally came into existence as the Rainbow Marathon in 2011. Although only eight people participated and finished the marathon, Sunflower continues to organize them.
This year, more than 500 people joined the marathon and over 10,000 people commented or reposted related pictures and videos of the marathon on Weibo and Wechat (a Chinese mainstream online social network).
Sunflower is changing peoples' views and bringing understanding from the public to the LGBTQ community through communal empowerment. They have helped hundreds of people who have been suffering from problems their sexual orientations have brought them with direct aid services. They have also provided people with a home to speak their stories and find hope.
All names are anonymous.
---
About the Contributor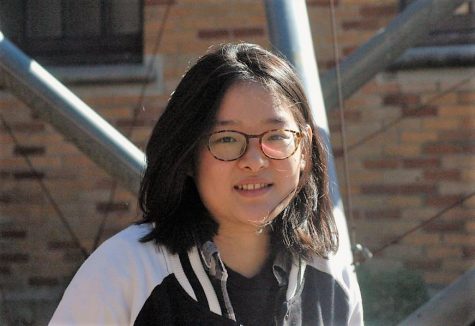 Wenqi Hu, Staff Writer
Wenqi Hu moved to Cleveland, Miss., from Shandong, China in January 2018. She is currently 20 years old, and her major is English Literature. Wenqi loves...