Short-Term Memory Loss: How the Statesmen Plan to Turn Around the Season
The team is no longer focused on the past games.
With three losses already this season, Delta State's football team is moving on with some help from selective short-term memory loss.
The team is no longer focused on the past games. The Statesmen are ready to prove that these losses will not define their season. They are expecting a major turn around to the season that will make people forget those early games were even scheduled.
A couple of players on the team are referring the losses as "The Past Games," as if they were dead thoughts in their minds. A few of teammates act as they never happened. Those players treat those games as imaginary and say that they have no wins but also no losses on their record. The rest treat these embarrassing losses as a reality check.
The Delta Statement asked a couple of players on the team about their thoughts and comments. Both players agree to disagree on the conclusion of the season.
One player, a wideout on the team, had this to say: "It's college football. There is always going to be a team pounding on another team. What matters is which team is your team? In our case, we were the team that got the poundings. We definitely don't want that, so with that being said, the best thing for us to do is get in the film room and have good practice habits."
The player continues to emphasize on the fact that, "you play how you practice, so practice like you play!"
Another player on the team, a redshirt safety, someone who practices but is not going to play this season, added on to what his teammate said: "It's simple, the season is still early. All that we have to focus on is improving daily. That means attacking each day. Day by day. We can not focus on next week, we can not focus on tomorrow all of the focus has to go towards the moment."
This season record for the football team is currently in process, which means the fans of the program can relax a little. This does not mean that playoff hopes must be kissed goodbye. The turnaround of this season continues this upcoming Saturday here at DSU.
Head Coach Todd Cooley was not available for comment.
About the Contributor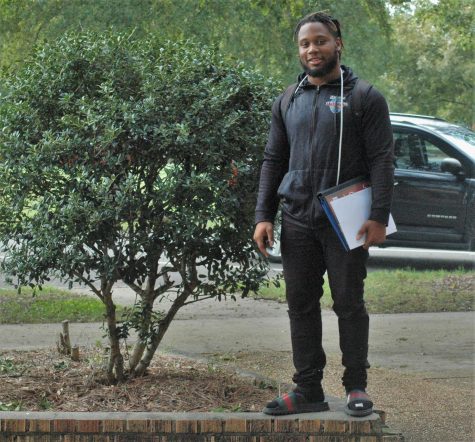 Delvin Weems, Photography
Delvin Weems is a 21-year-old aspiring sports journalist from Georgia. Some of his hobbies include playing football and video games such as Madden and...