October: The Month of Pink
October is National Breast Cancer Awareness Month (NBCAM), an annual campaign to increase awareness of the disease.
October is National Breast Cancer Awareness Month (NBCAM), an annual campaign to increase awareness of the disease. During October, people from all over the country host and participate in events that support the campaign and for awareness of the disease.
From high school athletes who wear pink in support of the cause in Friday night game days to the National Football League (NFL), who sells "Pink products" and donates the profits to cancer researchers such as the American Cancer Society, the month of October is a very significant month for companies such as the National Breast Cancer Society and the people it helps and supports.
The National Breast Cancer Foundation was founded in 1991 by Janelle Hail, a breast cancer survivor. With so little information out there about the disease, at the time, Janelle had no choice but to fight the disease with the little she knew; and she won.
Hail's story is the groundbreaking of the foundation whose mission is to "help women now by providing help and inspiring hope to those affected by breast cancer through early detection, education and support services," according to the National Breast Cancer Foundation's website.
Because of charities like Hail's, there are now ways for everyone to become more informed and educated on diseases such as breast cancer. For 25 years now, awareness and donations in effort to diminish situations like Hail's have helped to raise on average a revenue of 80% for life saving programs as documented by the foundation's website.
Additionally, thanks to the American Cancer Society and the pharmaceutical division of Imperial Chemical, National Breast Cancer Awareness Month has promoted mammography as one of the most effective weapons in the fight against breast cancer.
Life-saving programs such as the "National Mammography Program" provide free of charge
mammogram testing to women who may not be able to receive breast care services otherwise, because of financial inabilities to do so.
In addition to life saving programs such as the Mammography Program, whose focus is to help those women in need of breast care services, there are also events that are held each year to recognize the month of October as National Breast Cancer Awareness Month as well.
Since its origination, National Breast Cancer Month has gained support from all areas of the nation and even around the world. From national public service organizations to professional medical associations to government agencies, there has been an increase of breast cancer awareness support from several different facets of society.
One of the most well known events during the month of October for Breast Cancer Awareness is the Susan G. Komen Race for the Cure event. It is the world's largest Breast Cancer fundraising event. The event consists of a series of 5K runs and fitness walks to raise money for breast cancer, to raise awareness of the disease, to celebrate those who have survived breast cancer, and to memorialize those who have not. This event, along with many other ones that are similar, has paved the way for breast cancer awareness and continues to do so today.
If you or anyone you know have been diagnosed with this disease and would like to support the cause for awareness, there are several ways to do so. Listed are the ways in which you can help in addition to several DSU events that are taking place on October 25 in support of the campaign:
https://secure.acsevents.org/site/SPageServer?pagename=strides_donate_now
https://donate.nationalbreastcancer.org/breast-cancer-awareness-month-2018/
https://ww5.komen.org/RaceForTheCure/
12 Noon-Walk the Pink Mile at Wyatt Gym
1pm-Lady Statesmen Soccer at Delta Field
3pm-Statesmen Soccer at Delta Field
6pm-Statesmen Football at Parker Field/McCool Stadium
About the Contributor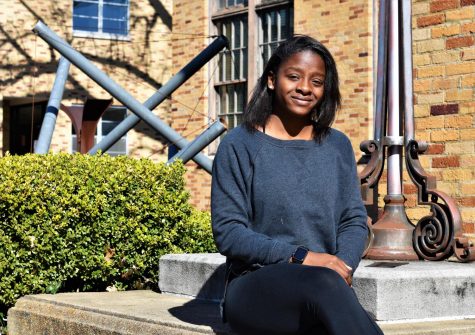 Jasmine McGill, Social Media
Jasmine McGill is one energetic Lady Statesmen.

A sophomore in pursuit of an English degree; complemented by a concentration in philosophy, and residing...