A Talk with Trombone Shorty
At the International Blues Conference held in Cleveland, Miss., one of the sessions was a talk with Trombone Shorty. Troy "Trombone Shorty" Andrews grew up in New Orleans and started his musical career at the age of 4 years old. He learned trombone and trumpet simultaneously and credited his brother, James Andrews, for his performance career. Playing with stars such as Bo Diddly and BB King, Andrews has a wealth of musical venues and outlets.
During the session, Professor Don Mitchell, associate professor of English and the chair of the Department of Languages & Literature at Delta State, asked a series of questions about how his childhood, music, and his life as a performer changed his life.
The first question dealt with how growing up in New Orleans had an impact on his life. Andrews responded that every member of his family could play a brass instrument and that they were a "brass band family." By just playing on the streets, Andrews built up his playing skills and his reputation.
Professor Mitchell then asked how Delta Blues, Country Blues, and Jazz influenced Andrews.
"For any type of music student, it is always important to know the foundation of the music that they are listening to now. That way, they learn how it is and can listen to the progression. Without the older music, I wouldn't be here today. You need to respect it and to appreciate where you are today."
From there, Andrews explained that Gospel music had a direct influence on his as well. Growing up, he did not go to church all that often, but was hired to perform at Jazz funerals. There, Andrews learned a lot of hymns and found influence and education from it. Andrews advised all music students to learn to play all type of styles because "you never know who is gonna call."
The final question of the session was, "What advice do you have to give to any young musician that would like to do what you do for a living?"
"If this is what you want to do, do not have a plan B. Be the best you are gonna be, and if that doesn't work, I don't know what to tell you. Eat, sleep, and breathe music. When you are in love with music, it doesn't matter the audience or the setting because you are playing your music. Also, take business classes to promote yourself. Being a musician is a lifelong endeavor. You have to be really honest with yourself and commit to it."
With that, the session ended with his parting words of wisdom. Andrews was excited to announce his concert later on that night at the Bologna Performing Arts Center with his band, Trombone Shorty & Orleans Avenue. He said that it "would be a performance that you would not want to miss!"
About the Writer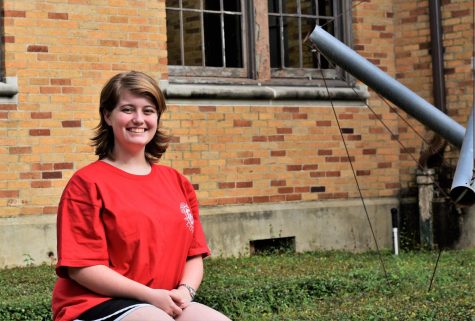 Claire Foster, Da / Events
Claire Foster came to Delta State from Biloxi, Miss., in order to pursue a career in teaching history. She is a member of Phi Theta Kappa, an honor society,...