Bitter Sweet Victory
On Super Bowl Sunday, Feb. 3, 2019, both sports and non-sports fans tuned in to watch the highly anticipated Pepsi Halftime Show in order to see Maroon 5 play the song "Sweet Victory" from the Nickelodeon cartoon "Spongebob Squarepants," but soon became outraged when they found out that the one song that they had been waiting for was turned into nothing more than a 15 second clip.
The chain of events that led to this began in November of 2018 when Spongebob creator Stephen Hillenburg died of cardiopulmonary failure due to ALS. Shortly after, a petition was made on Change.org in an attempt to have the song "Sweet Victory" from the episode "Band Geeks" play at the Super Bowl in honor of Hillenburg, which soon received over 1.2 million signatures.
What started out as a shot in the dark, soon began to spread like wildfire. Eventually the NFL caught wind of this and decided to play along. They would mention vague hints on twitter about something involving Maroon 5, until finally it was confirmed a few weeks before the game. Fans were ecstatic. People would finally be able to see the halftime show that they were dreaming of since they were kids.
Then, on Feb. 3, people crowded around their TV's, sitting at the edge of their seats, watching Adam Levine make his way across the stage playing his guitar. Then it happens… Adam stops in his tracks and the screen transitions to the character Squidward Tentacles introducing himself and his band; the trumpets start the introduction to the song and then… that was it. What followed was Travis Scott performing his song "Sicko Mode."
At first, fans of the series were baffled and confused. Some felt that this was an insult to Stephen Hillenburg and then they soon began to retaliate on social media. Fans rushed to make as many Sweet Victory jokes and memes as possible. One fan in particular went back to Change.org and started a brand new petition in an attempt to disband the NFL which currently has over 70,000 signatures as of this time.
Even though most fans of Spongebob were angry, some were just happy that their beloved show got the spotlight it deserved, even if it was only for a few seconds.
About the Contributor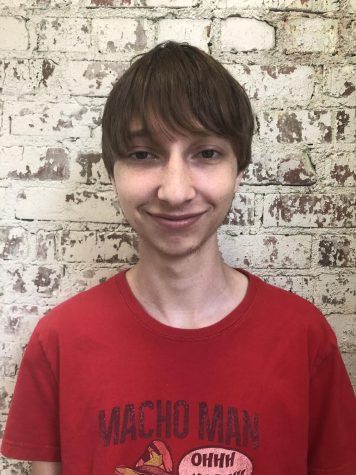 Trey Wright, Editor-in-Chief
Claude "Trey" Wright is a senior from Vicksburg, Miss., who is presently studying creative writing. Trey's interests include drawing comics, reading...