I Bleed Green: Antwyan "Todd" Moore
The clock is winding down on DSU's most-spirited student.
The clock is winding down on DSU's most-spirited student.
Antwyan "Todd" Moore is a senior at Delta State University and as his time to graduate approaches in the Fall, he is left wondering who will fill his shoes.
I approached Moore, mainly known on campus as Todd, still suited from a basketball game, hosted by DSU's  Intramural Program, that ended just minutes prior to our meeting.
"I always knew that I would be a part of the Statesmen family", he professes.  He then begins to share details on how he sacrificed to attend DSU
"On April 24, 2014, I missed 'North Half' just to make it to Delta State's Portrait Day, " he says while reflecting on the 2014 MS Regional Track Meet from his senior year. He continues by saying," Because of that decision, I received my scholarship that same day."
The Friars Point, Miss native admits that it hasn't always been a smooth ride these past few years. He reveals that during his sophomore year, he was side-tracked and wrongfully persuaded to attend Coahoma Community College.
"I'm from the Coahoma area and during the summer I train. That summer I  was using CCC's facilities to train for the DSU football team. After a few workouts the coaches there just started adding me in with their team."
Moore was later promised a position on CCC's football team but was informed after transferring that the offer was no longer available.
He firmly expresses that there are zero regrets,"I view the transfer as a horrible mistake, but not a total waste."
Since transferring back to Delta State, Moore has committed himself to the DSU family by being fully involved around the campus.
Moore is a member of the Okra Patch Squad, Union Program Council, Kappa Pi International Art Fraternity, God's Anointed Voices, and the Reform Universal Fellowship (better known as RUF).
When Moore is not attending a club or organizational function, you can always catch him in attendance during other various DSU events shouting, dancing, and hyping up the crowd.
This proud statesman has stood in as the mascot and was even entrusted with running Delta State's private Snapchat account.
Moore took DSU Snapchat followers on an adventure around the campus. He displayed his high energy and explained, "There is always sometime exciting going on; you just have to find it or create it!"
Moore gives all his credit and thanks to Dr. Vernell Bennett, Michael Stanley, and his mentor Michael Lipford. He says that each of these persons has played massive roles in keeping him motivated and informed on events and open positions that needed his special spirited-energy.
As his senior year gradually comes to a close, Moore wishes to share some advice for whoever is willing to fill his positions.
Moore says, "Remember to always spread happiness and laughter." He stresses that if some things do not fully work out, keep pushing. "You can't change the past, so focus on the future."
Antwyan Moore has one last semester to complete before attaining his BFA in Graphic Design, and he is open to becoming a mentor to whoever is willing to carry on his explosive school-spirit, here at DSU.
About the Contributor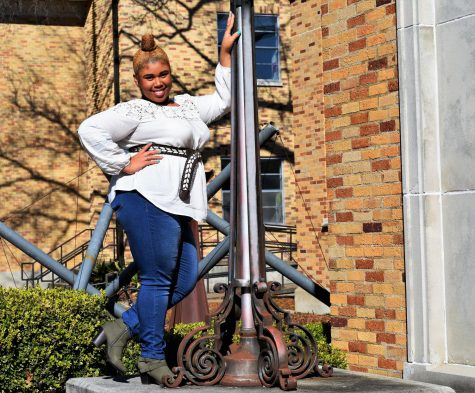 Hollie Williams, Publisher
Hollie Williams is a full-time mom and full-time student at Delta State University. The Greenville, Miss. native is majoring in psychology, while also...