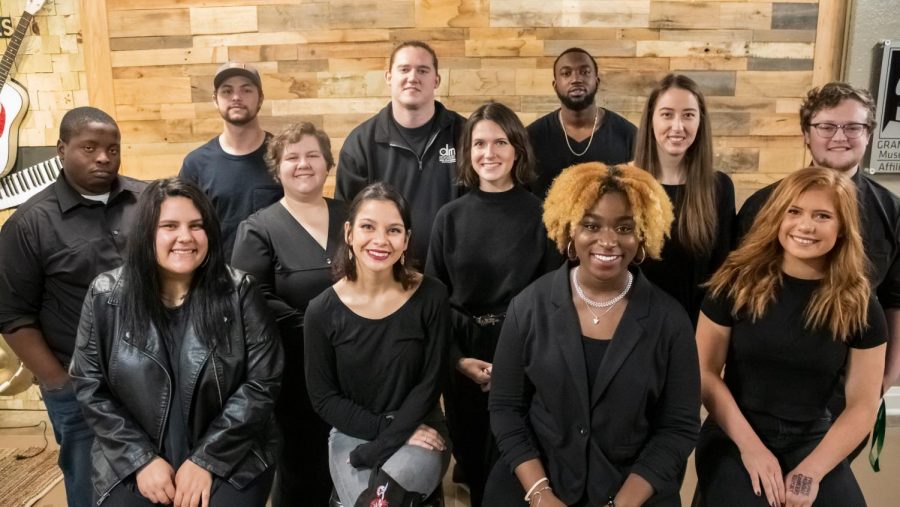 DSU
Right before the band was scheduled to leave for Los Angeles, Hannah fell ill and caught both strep throat and the flu just days before the big performance. Going against her doctor's orders, Hannah still went on to perform with the other students on Mississippi night.
As a freshman and audio engineering major from Southaven, Mississippi, Hannah Taylor anxiously auditioned to be a member of the 2019 Delta Music Institute (DMI) All-Stars band.  After earning herself the spot, Hannah, and 11 other music entertainment majors here at Delta State, landed themselves an opportunity to showcase their talents to the rest of the world.
According to Hannah, the audition consisted of a panel of three judges from the Delta Music Institute who instructed the students to demonstrate their skills by performing three different songs, at least that was the case for Hannah. She received a callback the same day and in the next couple weeks, she was in the studio rehearsing with other talented DMI students much like herself. As freshman and someone new to the university, though not new to the music industry, Hannah was ecstatic when she got a call back. However, Hannah beat those odds and earned herself a trip to Los Angeles, Calif.
Each year the Delta Music Institute (DMI), here at Delta State, selects 12 Entertainment Industry students to be a part of the DMI All-Stars band, which includes the opportunity to perform on Mississippi Night during Grammy Week in Los Angeles, California at the Grammy Museum.
As a student athlete and as a student in the DMI program, Hannah knew that this opportunity would be difficult to achieve, yet worth it in the long run. She even said that the most challenging part of the entire experience was balancing, "school, soccer, [her] band, AND the All-stars all at once." If she wasn't at soccer practice or in class, she was either practicing with her band or rehearsing for the performance.
For about 16 hours a week, Hannah said the band rehearsed over and over trying to perfect their performance, which consisted of both singing and dancing. The young musician said that there were even some nights when she would be at rehearsal until 1 a.m. or 2 a.m. and then have to go to soccer practice at 6 a.m. with an 8 a.m. class to follow. Hannah explains that even though her days were busy, she knew that it would all be worth it once she made that trip to Los Angeles.
Now that she has performed during Grammy Week at the Grammy Museum in Los Angeles, the Delta Statement asked the young musician what's next on her agenda. The audio engineering student exclaimed that she's "going to continue writing and singing and networking so that [she] can hopefully be making [her] own music soon."