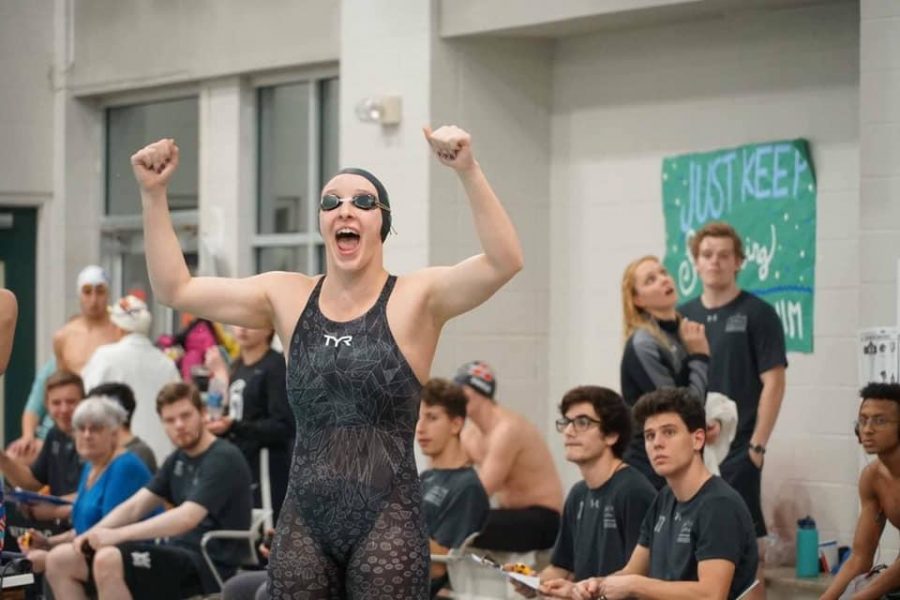 The middle of the semester is an odd time for most sports teams, but this is when Delta State swimming prepares for one of the biggest events of their year, Conference.
In preparation for their end of season meets, the swimmers practice every day from 5 a.m. to 7 a.m. and 3 p.m. to 5 p.m. Conference is a big deal, as it is the last to qualify for nationals. Chelsea Borrowdale, a sophomore from Vancouver, Canada, is one of the Lady Statesmen and has worked very hard in both the classroom and the pool for these meets.
Last season, Borrowdale did not make it to nationals in her events breaststroke and the individual medley. This loss from last season has pushed Borrowdale to become better in the pool; she has worked very hard on her strokes while also keeping her 4.0 in the classroom.
Last season's loss played a big role in how Chelsea prepared for her 2018-19 season. At each practice she went to, she "pushed [herself] to be better than last year."
"The loss was really hard, and I need to make nationals this year," says Borrowdale.
For 13 years, Chelsea has had to learn to manage her time wisely when it comes to swimming and outside activities.
"It sometimes can get difficult when I have an early practice and I have to stay up late to study or finish an assignment, but for the most part, if I time manage effectively, it is not so bad."
Borrowdale chose to come to the states because she believed she "would have a better chance to succeed as a student-athlete in the states compared to Canada."
At home, Chelsea knows that athletic scholarships are not offered for schooling, so going home after last year's loss was not an option. Instead, Borrowdale pushed back and worked harder to get to her and the team's goal.  
Coming from Vancouver with different norms, the culture in Mississippi alone "was a lot to handle at first," said Borrowdale. "From the way people spoke to how they drive and address each other."
Canada may not be that far from the states, but Chelsea still had to learn to adapt and did so quickly. After a year and a half, Borrowdale says, "I have come to like the way things are down here."
Borrowdale, standing at 5 feet 3 inches, is the type of person anyone would want to be friends with or have as a teammate. Regardless of how tired Chelsea may seem, she is always there for her teammates.
Lucia Martelli says, "Everyday, Chelsea spreads positivity. Even at the 5 a.m. practice, she never stays quiet and likes to keep a smile on everyone's face."
Borrowdale is an outgoing and cheerful person. "Even during the hardest times, Chelsea is there to pick us all back up and encourage us to keep going," Martelli says.
At the swim meets, you will see Borrowdale finish her event, grab her things and immediately look for someone to cheer for.
"I know it makes me feel good to see someone cheering for me, so I do it for everyone else," Borrowdale says. "I just really want everyone to have a good time."
As the end of the season is quickly approaching, Borrowdale qualified for nationals the weekend of Feb. 22, 2019. All of Chelsea's work has paid off this weekend in both of her events. Borrowdale was "surprised [she] qualified in both events because [she] really did not even think [she'd] qualify in one."
Chelsea Borrowdale will be competing in the national swim meet in Indianapolis this upcoming spring break. Ranked 8th in the nation for her individual medley, Borrowdale hopes to help her team as much as possible and bring back her best times yet.