What's Next for Kaepernick?
Colin Kaepernick has still yet to be made an offer by any team in the NFL. In 2016, Colin Kaepernick began kneeling during the National Anthem to protest racial injustice against people of color. Though many people respect him for doing so, many people disagree with the act as well.
Even President Trump openly stated that, "As far as the NFL is concerned, I just find it hard to watch, and always will, until they stand for the FLAG!"
Kaepernick has stated that his act of kneeling is not a selfish act for attention. In fact, in a post-game interview with nfl.com reporter Steve Wyche, Kaepernick made this statement: "To me, this is bigger than football, and it would be selfish on my part to look the other way."  
This 2016 statement was made when the former San Francisco 49ers star quarterback was earning $16.5 million dollars a season.
Following this comment, he opted out and declared himself a free agent. Since that moment, Kaepernick has missed out on two consecutive seasons.
Was being practically blacklisted  his own fault or was every team in the NFL being unfair?
Though Kaepernick's personal beliefs may have permanently crippled his professional football career, there is speculation that his lack of production as a quarterback is the reason why the former San Francisco quarterback has yet to be offered a contract.
NBC analyst Chris Collinsworth argues that "Everybody has some reason that they haven't signed Colin Kaepernick. But it's hard to say 'they,' like all 32 owners, think exactly the same. That's ridiculous."
Just weeks ago, former Kansas City Chiefs running back Kareem Hunt signed a 1-year contract worth more than $1-million with the Cleveland Browns despite having been suspended for a domestic violence altercation months earlier. The incident happened last year and Hunt has already been offered another contract by another team.
Meanwhile, there is no deal for Kaepernick, at least there isn't one that includes him throwing a touchdown in the NFL anytime soon.
Even though it is unclear if Kaepernick's lack of an offer is a result of his act of kneeling during the National Anthem, there is still speculation that Kaepernick is wrongfully and unfairly being blackballed by the NFL.
Milan Simonich, a columnist for the Santa Fe New Mexican, believes that the NFL, "is more committed to punishing peaceful protesters than ridding itself of men who beat women."
Simonich also argues that because Hunt "can run over musclebound 220-pound safeties," the Cleveland Browns, and many other teams, choose to overlook his egregious conduct. Hunt isn't the only player to be welcomed back after being suspended either. Adrian Peterson, a former Minnesota Vikings running back, was suspended on personal misconduct as well and was offered a 1-year deal with the Washington Redskins not too long after his suspension. Ben Roethlisberger was suspended as well for violating the league's personal conduct policy and was allowed to continue playing for the Pittsburgh Steelers.
Whatever the case, a week ago, that the NFL reached a settlement to cover Kaepernick's collusion lawsuit against the league. The settlement is more than the organization has done in support of Kaepernick in the past two seasons. Still, some are asking if this settlement will give him the same second chance as Kareem Hunt was granted by the Browns.  
Maybe this is the last we'll hear of the former NFL player. Maybe this deal means Kaepernick will be receiving offers to play soon.
About the Contributor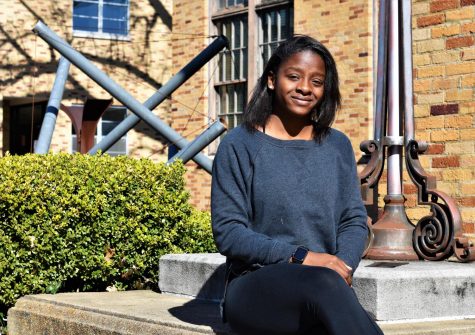 Jasmine McGill, Social Media
Jasmine McGill is one energetic Lady Statesmen.

A sophomore in pursuit of an English degree; complemented by a concentration in philosophy, and residing...