Drew, Rhianna, and Dylan : Three Student Deaths, One School Year
Left with only questions and memories, the Delta State student body reels from the loss of three of their own. Senior Drew Rexrode, sophomore Rhianna Billings and junior Dylan Dempsey tragically lost their lives in the 2019-2020 school year. 
The suddenness of these losses has sent shockwaves across our close knit campus. Even students who were not close to the three are left seeking a sense of community and hope in a confusing and painful time.
The Baptist Student Union held a joint memorial service for Rexrode and Billings on Nov. 19, 2019. Most recently, they held a service for Dempsey on Feb. 24, 2020.
Drew Rexrode (Nov. 8, 1998-Nov.8, 2019)
A month into the school year, one of the biggest shocks to the campus occured. As everyone was still settling in, Drew Rexrode lost his life on the night of his twenty-first birthday in a single-car accident. 
Rexrode was a health and physical education major. He transferred to Delta State from Hinds Community College and was classified as a junior. 
According to his obituary, Rexrode was a sports enthusiast. He enjoyed playing football, golf and table tennis. His life was unfortunately cut short after coming to Delta State on a full tennis scholarship.
Rexrode was a member of the Kappa Alpha Order-Delta Beta Chapter on campus. The fraternity, understandably, has yet to respond to our request for a comment on this tragic loss.
 

Rhianna Billings (March 27, 2000-Nov.14,2019)

While the campus was still trying to heal from the loss of Rexrode, Rhianna Billings passed away a mere eight days later after a brief illness. 

Known by Rhi to her friends, Billings was a light to many. Jenn Rich, a close friend of Billings, says,"From the day I met her she was always there for me. [She] always loved me and accepted me for who I am without hesitation." 

According to many students who came into contact with Billings' "infectious" smile, she always made sure that her friends knew they were loved. Friends say that Billings was never one to shy away from a compliment and that she was the kind of person who would drop everything if someone needed her. 

Another one of Billings' friends, Bri Gates, says, "She had a rough home life and backstory, but she never let that get in the way of her living her life." Rhianna's loving spirit of helping people extended to her major. She chose elementary education because of her love of children. She also loved to draw, eat candy and play Dungeons & Dragons. 
Dylan Dempsey (April 27, 1997-Feb.7, 2020)
Just when it seemed things were looking up for the campus, Dylan Dempsey passed away a week before Valentine's Day. Dempsey was a sculpture major and had many friends within the art department. 
Gracie Pelton, a fellow art major says, "he was a really sweet dude. He was unapologetically enthusiastic about everything he cared about." Dempsey was described by peers as a "sweetheart," and in the art department many considered him a close friend. Some even said he had the best fashion sense of any art major. 
Delta State's Art program is well known for being a tightly woven family. There is no doubt that the loss of Dempsey was a devastating blow to the department. Many professors cancelled classes throughout the week, and counselors were set up in the art building to speak with grieving students.
Delta State has yet to release an official statement on Dempsey's death.
Faculty Response
Unfortunately, we cannot prepare for any death.  Myles Lofland of Student Business services regularly works with students. Lofland spoke on the matter saying that death is "Inevitable, but one of the least talked about things." 
He further stated that we cannot ignore death. If we remove the "taboo state" around death, it may allow for healthier grieving. Lofland also said that in such times, people look for a sense of community. 
After the Delta State shooting of 2015, the idea of a "Delta Family" formed among students and faculty. Since then, there has been a push for community among the students to make sure that no one is alone. 
The Delta State Family has now more recently come together for the loss of Rexrode, Billings and Dempsey. 
If you are struggling with grief, please do not be afraid to go to the Delta State Counseling Center. Their hours are Monday through Friday, 8 a.m. to 5 p.m. 
Another helpful resource is the Grief Counseling Hotline:1-800-662-HELP (4357).

About the Contributors
Hannah Alley, Delta Arts Journal Editor
Hannah Alley is a sophomore at Delta State, and this is her first semester with "The Delta Statement." She is going for a degree in Secondary English...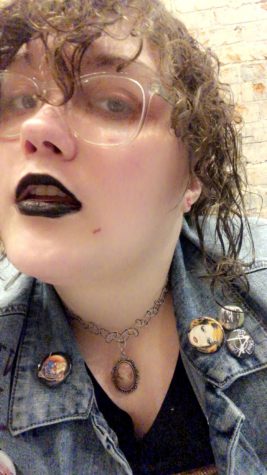 Jay Loper, Columnist/Da Editor
Naia Marie Lanton is from Grenada, Miss. Naia is obsessed with music, fashion and the paranormal and enjoys playing video games. She decided on her major,...