Sigma Alpha Epsilon and Their Philanthropy
Sean Gage, Jared Noonan and Owen Boutwell Talk About DSU's ΣAE and Upcoming Charity Events
Correction: "Sigma Alpha Epsilon and Their Philanthropy" has been edited to include social media links to DSU's National Pan Hellenic Council fraternities.
People think the only thing fraternities do is pass around red solo cups, but there is more to a campus frat than throwing parties at the local bar. Sigma Alpha Epsilon and other Delta State Univ. fraternities also engage in charity work. 
The Sources
You may have seen them sitting at a table in the lobby of the H.L. Nowell Union or their letters outside of Cain-Tatum. It's hard to miss ΣAE in gold and purple, bold letters strewn across campus. 
Sean Gage, Jared Noonan and Owen Boutwell are three active members of the Mississippi Delta Sigma chapter of Sigma Alpha Epsilon. All three are executive members with public service experience under their belts, with a passion for philanthropy within the fraternity.
Gage, originating from Olive Branch, Miss., says charity was a contributing factor as to why he joined the fraternity. His focus on charity work during high school and in his immediate family led him to seek out opportunities to continue this work in college. 
Boutwell and Noonan commented on how they joined the fraternity for a sense of community but soon realized there was more to this brotherhood than just social connections.
The current president of the chapter, Boutwell stated, "It wasn't until after I joined that, you know, I realized how much we were involved in the community and with philanthropy and giving back to basically anyone we could."
Creating a Fraternity Charity Event
Fraternities facilitate philanthropy and social events are time consuming to conduct. Every member does their part to help these events run smoothly, regardless of their executive status. 
The first step in every fundraiser is a discussion in a chapter meeting and must receive approval by all active members of the chapter. ΣAE then works with the university to reserve a spot at the Student Union to advertise the event. Flyers, word of mouth and social media are just some of the ways that they use to make connections with possible donors.
When asked what the best and most effective way he believes is to raise money, Gage stated, "Word of mouth is the best way in my opinion, especially on a campus this small."
Delta State Univ. students can make a big difference to raise funds for philanthropy. Our family-like community can make a huge difference in spreading the word about philanthropic events, just like the ones ΣAE directs. 
The Polar Bear Plunge
As a national organization, ΣAE supports Children's Miracle Network. Outside of their main philanthropy, individual chapters can choose smaller or more specific charities they would like to contribute to.
"
It's fun because it's not just secluded to Delta State. We raise the money here and we go, and we witness other people that it's benefitting and then we get to enjoy being with each other
— Owen Boutwell
The Polar Bear plunge if for the Special Olympics and a popular form of philanthropy. During the Polar Bear Plunge, individuals can make donations and also watch others jump into freezing water. 
While this may seem like a form of self-torture, the three have all stated that the Polar Bear Plunge is consistently the most successful fundraiser that the fraternity has every year. 
"It's fun because it's not just secluded to Delta State. We raise the money here and we go, and we witness other people that it's benefitting and then we get to enjoy being with each other," Boutwell commented. 
The current fundraiser that ΣAE is facilitating is a Polar Bear Plunge event. The funds go towards the Special Olympics of Memphis. Gage explained how in a low-income area, like Memphis, donations are low. Without donations, it's hard to fund events for  participants.
Gage stated, "Every single dollar we raise goes to the Special Olympics." He added, "Stuff like this [ΣAE's contribution] is definitely important to them." 
Summing It Up
ΣAE is an influential force on the DSU campus. Their focus as a chapter is beyond throwing Halloween parties.
The Delta Sigma chapter continues the philanthropy legacy even beyond the Polar Bear Plunge. They also complete small tasks like helping the elderly and adopting a highway.
DSU's fraternities' Instagram accounts offer a chance to get involved. Most charity events and campus activities are advertised on social media. Even if you're not a part of Greek life, staying involved on campus is a great way to enjoy college.
For more information, see the Instagram pages of our DSU fraternities here: Sigma Alpha Epsilon, Alpha Phi Alpha, Kappa Sigma, Pi Kappa Alpha, Kappa Alpha, and the Facebook pages for Omega Psi Phi and Phi Beta Sigma. More information on Kappa Alpha Psi can be found on DSU's National Pan Hellenic Council page.
About the Contributor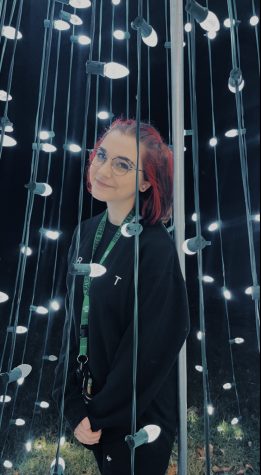 Lauren Harvey, Copy Editor
Lauren Harvey (she/her) is from Woodbridge, Va., and is finishing her second year at Delta State Univ. Lauren was previously a psychology major, but her...