The Best Ooey-Gooey Triple Chocolate Chocolate Chip Cookies Guaranteed to be Better Than Your Mother Made!
If you're alive on this planet earth, then you've had a chocolate chip cookie. But I can assure you, these cookies are better than any other cookie! A buttery soft cookie packed full of chocolate! I mean these cookies are oozing and goozing with rich flavor. On top of being sinfully decadent, these cookies helped me unite my community! 
How It All Started
I was attending the usual weekly PTA meeting when this Critical Race Theory was brought up, and the way some other communities were reacting to the idea. It started out civil, with the normally opinionated giving their opinions. There seemed to be a pretty even number of people on both sides pushing for and against it. Then, one question made all hell break loose: 
"What are you? A white supremacist?"
That was not well received and led to a full-blown riot! Everyone was talking all at once! I couldn't even hear myself think!
I don't really pay attention to politics or have many thoughts on the world around me at all.
"
Then, it hit me! I'll make some delicious cookies, and everyone will forget about this Critical Race Stuff!
Personally, I think both sides are pretty extreme. With one pushing for the true history of our world to be taught in schools and the other pushing for lying to our children in order to prevent us, white people, from looking bad. I mean they're both so complicated! Why can't we just all get along and eat cookies?!? 
Then, it hit me! I'll make some delicious cookies, and everyone will forget about this Critical Race Stuff!
The meeting ended with tensions pretty high, and the next one started with them even higher.
I didn't let this stop me though, I marched right up to the bullpen and said, "Now y'all, we all love each other, and just because we may have different opinions doesn't mean we can't be friends. Now, let's just put this all behind us, and enjoy my gooey triple chocolate chocolate chip cookies guaranteed to be better than your mother made!" 
And just like that everything went back to normal. Conversations returned to pleasantries and business went back to usual.
Now that you've read that, you'll definitely be craving these glutenous treats!
The Recipe
Here's what you need:
2 ¼ cups all-purpose flour

1 tsp baking soda

1 tsp salt

1 cup (2 sticks) of softened butter

¾ cup granulated sugar

¾ cup packed brown sugar

1 tsp vanilla extract

2 large eggs

1 ⅔ cup of

NESTLÉ® TOLL HOUSE®

Triple Chip Morsels
First, preheat the oven to 375
Then combine flour, baking soda and salt in a small bowl. Beat butter, granulated sugar, brown sugar and vanilla extract in a large mixer bowl until creamy. Add eggs, one at a time, beating well after each addition. Gradually beat in flour mixture. Stir in morsels and nuts. Drop by rounded tablespoon onto ungreased baking sheets.
Bake for 9 to 11 minutes or until golden brown. Cool on baking sheets for 2 minutes; remove to wire racks to cool completely. Makes about 4 dozen cookies.
Make sure to grease the pan!
Let cool and enjoy!
About the Contributor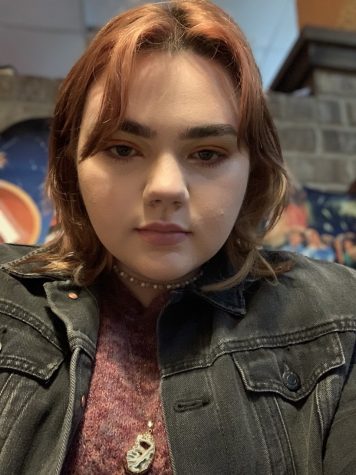 Riley Stembridge, Publisher
Riley Stembridge (they/them) is an English Education major from Saltillo, Miss. They chose this major because of their skill in English as well as an overall...