The Okra Spotlight Is On Eric Jamal
"I'll give you my heart. I'm a proud organ donor/ I'm living in the present, I consider it a gift."
The above sentences, or shall I say verses, were from Christian rapper, Eric Jamal Johnson. Johnson is currently a junior at Delta State University and is a Delta Music Institute major.
Johnson began rapping at the age of 16. "At first it was more of a hobby, but I just started liking it more and more as I wrote," he said. "It became my passion."
Most music artists have inspirations, and Johnson was heavily influenced by the artists Lecrae, Kendrick Lamar, J. Cole, and KB. Although, he had a few artists that inspired him, Lecrae was one of his favorites.
"I admire his passion because he doesn't rap just to rap," Johnson explained. "He raps to help other people, to inspire other people and what they go through in life."
Johnson has not competed in any competitions or talent shows, but he has performed on many stages. He performed for the first time when he was 16 at The State Temple in Clarksdale, Miss.
This first-time stage performance was not how he had planned it in practice. "My very first time performing at 16, I choked in front of a lot of people," he said. "I couldn't remember my lyrics. I just stopped performing. After that, I learned how to freestyle."
Johnson was an artist that learned from his mistakes to better himself. He said that if he were to freestyle now and make a mistake, it would go unnoticed.
Since he has performed at many shows, being nervous was the least of Johnson's problems. Before a performance, he gets slightly nervous; but after he began performing he "gets in his zone."
It is challenging for the rapper to balance his music, school, and other activities he is involved in, but Johnson manages to find time for it all. "Most of the time, during school, I don't write as much, but I still write," he said. "If I'm trying to work on a project, I would do it during the summer."
He is currently working on a project now. He is releasing a mixtape in October called Showcase. It will be available on Soundcloud and Spinrilla. A definite date will be released later in the month.
Future plans for Johnson include going on tour nationally and internationally. He wants to be a great artist who will inspire people through his music. Such as his lyrical content, clever rhyme schemes, and word play that is centered around hope and the "rawness" of life from his ambitions, goals, and circumstances.
Be sure to check out one of his songs on Soundcloud.
About the Contributor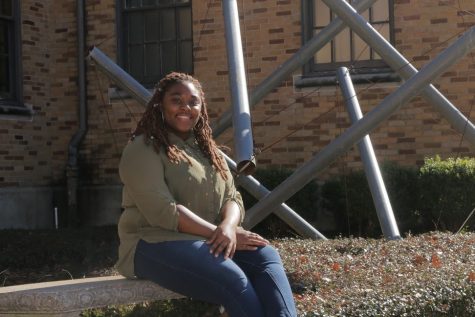 Penny Bedford, Staff Writer
Penny grew up in Tunica, Miss., a town whose underfunded education system spurred her to be the go-getter and self-starter she is today. After graduating...