Statesmen Lose to West Georgia, 34-24
Sept. 17, marked the third game of the season for the Statesmen. They faced their first away game against the West Georgia Wolves who are currently ranked No. 3.
The Statesmen were first to score in the afternoon game on Saturday. Freshman defensive end Zane Samuel came up big when he blocked West Georgia's punt and returned it for the touchdown. Kicker Cody Mills was unable to finish the drive, when his kick was blocked. Statesmen were up 6-0.
However, Mills redeemed himself later when he kicked a 31-yard field goal, which pushed the Statesmen up 9-0.
In the second quarter, West Georgia remained scoreless, when Mills once again connected on a 37-yard field goal. The Statesmen led 12-0.
Later in the second quarter, West Georgia scored their first touchdown of the game and sliced the Statesmen's lead in half.
West Georgia went on to take the lead in the second quarter, when a West Georgia player blocked a punt and returned it for a touchdown. That gave West Georgia their first lead of the game at 13-12.
The Statesmen came back in the third quarter to score again, but failed at the two-point conversion. Delta State led West Georgia 18-13.
With little more than four minutes left in the third quarter, the Statesmen failed at their attempt to convert on a fourth-and-one play. The Wolves jumped all over it, going on to score three unanswered touchdowns.
The Statesmen fought back and scored again, late in the fourth quarter. However, they were unable to get the two-point conversion.
With the final score being a ten-point deficit, West Georgia scored 21 unanswered points in the game, leaving the final score 34-24. The Statesmen were unable to make a comeback despite fighting back.
Next up on the schedule is the Statesmen's big traditional game during Pig-Pickin' weekend. The game will take place on Saturday, Sept. 24. With home field advantage, the Statesmen will be hungry for the win.
Come out and show your support! Let's go Statesmen, and happy Pig-Pickin' to all!
About the Contributor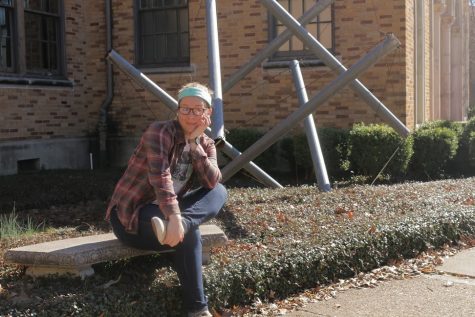 Bugg Davis, New Media Co-Editor
Bugg, a junior from Potts, Miss., is an English major with a concentration in philosophy. Before coming to DSU, she played basketball at Northwest Community...