The Annual Faculty Exhibition Opens
The Delta State's Annual Faculty Exhibition opened Sept. 29, at the Fielding Wright Art Center. The exhibit features several pieces from faculty members of the Art Department. The faculty members presented in the exhibit include: Kim Rushing, Natalie Tyree, Ky Johnston, Amy Cannestra, Mollie Rushing, Ron Koehler, Michaela Merryday, Cetin Oguz, Jon Mark Nail, Michael Stanley, and Will Jacks. Each artists presents a specific type of art that is considered their forte. Rushing submitted photos from his career, Stanley submitted sculptures, and Nail submitted a film.  
"I like the fact the Delta State has an exhibit that shows professors' works," Caitlyn Joules, a digital media arts major, said. "It really does give art students hope and that you can really do something you love. One day, I hope to have an exhibit presented in the Fielding Wright Art Center." Joules favorite piece is Mr. Brickman Loves His Friends created by Koehler. The sculpture consists of Mr. Brickman, a brick column, surrounded by friends made of brick also, and wooden birds.
The exhibit allows the professors to showcase their talents and inspire student artists. "After seeing Cetin's abstract paintings, it influenced me to paint more and to give it my all rather than doing enough to get by," Tarrius Gorden said. "I really wish they could display all the works created by the faculty so we can see how they have grown and changed throughout the years." Although the art department does not display all the works created by the professors, past exhibits can be accessed through the Delta State's website.
The Faculty Exhibit will be on view in the Wright Gallery until Oct., 27. The exhibit is free and opened to the public.The gallery is opened Mondays-Thursdays from 8:00 a.m.- 5:00 p.m and 8:00 a.m.- 4:30 p.m. on Fridays. Be sure to stop by and check out the works presented, take pictures to post on your social media sites. Don't forget to hashtag #DSUPhotoBuzz.
About the Contributor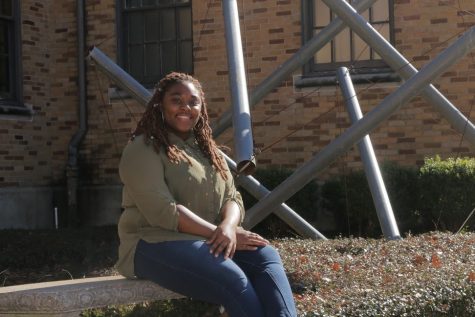 Penny Bedford, Staff Writer
Penny grew up in Tunica, Miss., a town whose underfunded education system spurred her to be the go-getter and self-starter she is today. After graduating...