The Right to Remain Silent
The Right to Remain Silent
A pecha kucha (Inspired by the iTunes top 20 chart)
[Blank Space]
When I was six years old
My best friend was white.
We smiled, laughed,
And ran across the playground
Trying to play freeze-tag with time
[Do They Know It's Christmas]
Int: Split-screen, one white household, the other black.
Scene 1:"Daddy! Mommy!" he screamed as he
Un-wrapped his shiny new go-kart.
Scene 2: Eyes glistening, "I don't think Santa is going to make it this year baby."
His mother whispered while staring at the floor.
[Take Me to Church]
One time I asked my father,
"Who created God?"
He stared at me and thought carefully
Before answering… 
[Shake It Off]
There were certain sounds that came and went
Like the footsteps of my grandfather.
So he listened carefully,
Taking notes from a father
He never had.
[All About that Bass]
Jazz has its' way of soothing the broken.
It gives meaning to the word music,
Bending chords that could mend a heart,
Pouring out rhythm
To quench a depraved soul.
[Animals]
We all thrive off others.
The flesh that remains on your plate after you eat
Was raised by a farmer.
The flesh that remains within me comes from the divine,
Or at-least when I break bread.
[Night Changes]
He told me that his parents
wouldn't allow us to be friends anymore.
I laid crying on the pale shoulder of my mother that night.
While my dark dad yelled into the phone
In the distance.
[I'm Not the Only One]
Allah, Brahma,
Buddha, God,
Jehovah, Krishna,
Shiva, Yahweh
 [Jealous]
"We don't have money for that.'
"But Chase has it!"
Words were mentioned that he didn't understand,
Sometimes the words white and black
Are unrecognizable when viewed in other languages.
[Steal My Girl]
Lips pressed up against each other
In between the polyester sheets of a Motel 8
Just south of Crenshaw Boulevard.
This is what lust is,
This is what life is.
[Just Staying]
He stayed here for me.
That is what I will say
To the 5 million other children
Of my race that cannot say the same.
He stayed here for me.
[Centuries]
12 years to become a graduate.
18 to become an adult.
21 to decide what you want to do for the rest of your life.
75 to live.
13.8 billion to compare.
[I Don't Fuck with You]
Ext: normal home, party going on next door.
Reader 1: "Hey, you niggers keep it down or I'm coming over there!"
Reader 2: "Nigga, what? Fuck you,
 fuck crackers, and fuck you again.
Look at me, at my skin, and tell me that you won't pull the trigger."
[Lips are Movin']
I have felt chocolate trickle down the sides of my tongue,
Filling my cravings with a satisfaction only she can tell.
As so the ivory that touched my skin,
Checking each note, loving every inch of my body.
[Tuesday]
My real father died on Tuesday.
That's all I really remember.
Yesterday my son was born.
Today is Wednesday.
[Trumpets]
"Put the trumpet to your lips!
Like an eagle the enemy comes
Against the house of the LORD
Because they have transgressed my covenant
And rebelled against my law." – Hosea 8:1
[Bang Bang]
A worker sorts bullets on an assembly line.
A white male, 28, places a badge upon his chest, telling his family he loves them.
A black male, 18, decides he needs money…now.
A shooting.
A country separated even though only 1.3 million Americans are legally blind.
[Stay High] 
Twirling from the edge of your lips
Lies, fears, pains, and tragedies.
So, inhale.
Let it capture your mind
Only escaping when reality frees you.
[Riptide] 
Send them to the plank and throw them overboard,
But don't swim through them, you will drown.
When I am stuck in America's rip-tide,
I swim sideways,
Escaping the current.
About the Contributor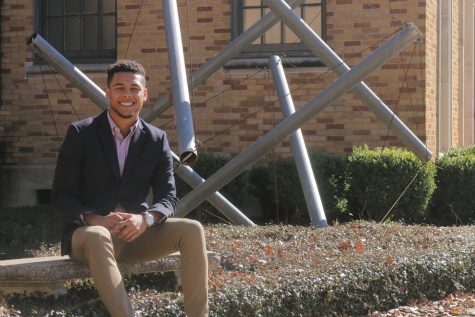 Nick Houston, Editor-in-Chief
Nick Houston is a Senior English major from Slidell, Louisiana. This is Nick's second year on the Delta Statement staff. A part from school, Nick is in...