Your Library Problems Are Over
"The Roberts-LaForge Library is the backbone of Delta State's academic environment." Kristina Claunch, reference and Instructional Services Librarian, stated.
The library hosted multiple tours last week on Wednesday, Jan. 18, and Thursday, Jan. 19. The tours were offered every thirty minutes between 12:30-5:30 p.m. on Wednesday and 12:30-4:30 p.m. on Thursday. The tours were 15-minutes-long and allowed students to become more familiar with the library.
"There are not many students that utilize the library to its full potential. There are many available resources located right here inside Roberts-LaForge. With these tours. we hope that students will be able to learn something about the library they did not previously know, and [that] they will feel more comfortable coming into the library…" Claunch explained.
The library staff hopes to continue to provide the tours in the fall semester, because of last week's success.
Chandniesha Gordon, junior at Delta State, gave her insight on the library tours: "I have attended Delta State since my freshman year, and I have been to the library maybe once or twice. The library tour was very informational. I wasn't aware there was an IRC (Instructional Resources Center) in the library, and I can check out DVDs, CDs and movies. I think that these library tours should be offered at least once a month. I definitely will be using the library more this semester."
Besides the 15-minute tours, the Roberts-LaForge Library also offers three different sessions. There is a general library orientation that includes a basic tour of the library and a brief overview of types of information resources. The general library orientation can be requested at any time, unlike the library tours.
There is a searching and research oriented session that helps students utilize the electronic databases. The sessions concentrate on how the library material is organized, how to properly search databases, and the evaluation of resources collected.
The subject-specific session includes tours that focus on relevant areas of the resources collection. The reference librarians teach classes on evaluating and analyzing subject-specific print and electronic sources. You can schedule an instructional session visit Delta State's Library homepage or call 662-846-4431.
"More Library programs and activities are currently being planned and will be announced on the social media sites and the university calendar, and through other means of advertisement." Claunch finished.
If you would like to visit the library, the hours of operation are from 7:30 a.m-10:00 p.m. Mondays-Thursdays, 7:30 a.m.-4:00 on Fridays, closed on Saturdays, and opened on Sundays from 2:00 p.m.-10:00 p.m.
About the Contributor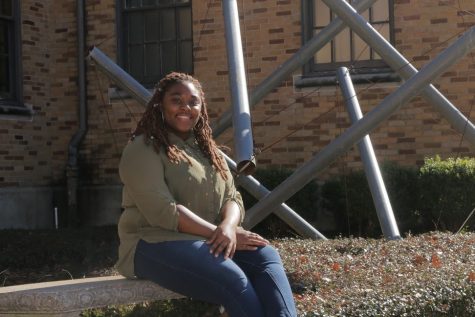 Penny Bedford, Staff Writer
Penny grew up in Tunica, Miss., a town whose underfunded education system spurred her to be the go-getter and self-starter she is today. After graduating...