How to Support South Mississippi Tornado Victims
The Office of Student Life at Delta State is collecting donations for the Pine Belt tornado victims and encourages students to participate in this on-going event.
On the morning of Jan. 21, 2017, tornadoes hit south Mississippi causing damage to 1,400 homes in eight different counties. There were 60 injuries and four deaths were confirmed in these counties. Among these, William Carey University sustained serious damage.
"Many students [from William Carey] have moved into our dorms," said Deborah Mordica, a sophomore from the University of Southern Mississippi. "All our dorm rooms are almost full now with students from both campuses. They are even letting them have class in some of the buildings we don't use anymore."
Donations are being collected at a table in the DSU H.L. Nowell Union everyday until Friday, Feb. 3, from 10 a.m. to 2 p.m. In addition to the donation table on the first floor, donation boxes are located outside the Office of Student Life, which is on the third floor of the Union in Room 200.
Director of Student Life, Jeanna Dacey Wilkes, wants students to participate in this collection in some way. She encourages students to help by reporting that any donation is helpful—there is no donation that is too big or too small.
The Office of Student Life suggested some acceptable donations: non-perishable food items, canned goods, manual can-openers, plastic food containers, and zip-lock bags. Diapers, baby wipes, formula, and other personal care items for infants and children are accepted also. Student Life encourages students to bring personal care items such as toothbrushes and toothpaste, combs or brushes, deodorant, shampoo, soap, feminine hygiene products, towels, and wash-cloths along with clothing, new blankets, and pillows.
Bottled water, Gatorade, and other sports drinks, pet food, and supplies as well as phone chargers are acceptable. Household items like plastic storage containers, cleaning supplies, and rubber gloves are helpful, too. Supplies that can be used for clean up or salvaging purposes are also being collected. Some of these items include tarps, rakes, shovels, brooms, plastic totes with lids, five gallon buckets with lids, trash cans, flash lights, batteries, duct tape, hammers, pliers, screwdrivers, hand saws, and other hand tools along with safety glasses, rain ponchos, work gloves, blankets, first aid kits, and gas storage cans.
Collected items will be taken to Collins Fire Department and distributed later. For more information on items that can be collected see the full list on the Student Life page, which can be found here: http://www.deltastate.edu/news-and-events/event/donation-collections-south-ms-tornado-victims/2017-01-31/
They can also be contacted by phone at 662.846.4666 or by email at [email protected].
About the Contributor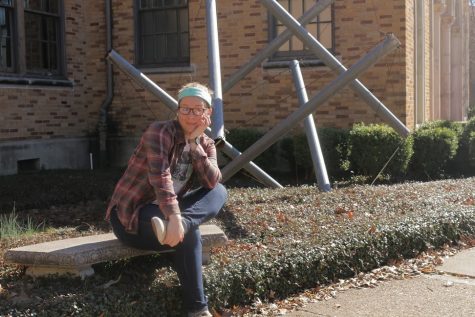 Bugg Davis, New Media Co-Editor
Bugg, a junior from Potts, Miss., is an English major with a concentration in philosophy. Before coming to DSU, she played basketball at Northwest Community...