The Rooster's Crow
On Jan. 28, 2017, the Mississippi Delta Chinese Heritage Museum (MDCHM) celebrated Chinese New Year with a tour-and-tea event from 10 a.m. to 2 p.m. Admission was free, and visitors had the opportunity to explore the museum's treasures which includes: a table set for a Mahjong game, the original doors of Greenville's old Min Sang & Co. Grocery and Market, and a mock workspace of Delta native Gilroy Chow, a Chinese engineer who helped bring home Apollo 13. After the tour, visitors enjoyed hot tea, blood oranges, and almond cookies for luck in the new year.
Celebrating Chinese New Year (or Spring Festival, as it is more commonly called) was a little different in China, however. Preparations began a week in advance as people swept the bad luck out of their houses and bought new, bright-colored items, particularly red ones, which is a lucky color in China.
"Cleaning their houses, sweeping the floor…dredging the ditches," explained Chenzi Jin, a graduate exchange student from Inner Mongolia, China. "People do all these things happily in hopes of the good luck in coming years."
On the eve of the new year, people decorated their newly cleaned houses with red lanterns, paintings expressing best wishes, red diamond-shaped paper cutouts, and pictures of the past year's zodiac as well as armed, scowling door gods believed to ward away evil spirits. The most common decorations were couplets, which are poetic paired lines written or printed in black or gold ink on red paper and pasted on either side of a person's front door. Above the doorframe people added a four-character horizontal scroll. These couplet sets expressed the family's various hopes for the new year, including prosperity, peace, and wealth, and were paired with the upside-down "Fu" character, which signifies happiness and good fortune.
Another important tradition was the New Year's Eve family dinner that people traveled from all over the world to attend. Last year, CNN called the rush the "largest annual migration in the world," with nearly three billion trips expected across China. This travel influx placed such a strain on China's already crowded transportation systems that just going from one city to the next often required passengers to switch from bus to train to subway to high speed rail and back again. Once they finally arrived, travelers were swiftly greeted by family and hustled inside to prepare for the festivities.
During dinner, most families watched China Central Television's (CCTV) Spring Festival Gala, commonly called Chunwan. The nearly five hour long show took almost half a year to prepare and was meticulously directed by the Chinese government, whose desire to reach more of its 1.3 billion plus resulted in lineups like skits, acrobatics, magic acts, comedy sketches, martial arts, Chinese opera, mini military parades, and song and dance routines.  Actress Liu Tao, boyband TFboys, and actors/singers Hu Ge and Lu Han featured in the show, further boosting its appeal and viewership.
"Around 900 million people watched China's New Year TV gala last year [2016], according to the national broadcaster," reported CNN's Shen Lu and Hilary Whiteman. "That makes it bigger than the Super Bowl."
Once the show ended, adults gave the children red envelopes full of money supposed to bring good luck, which is why the MDCHM's Program Coordinator, Cindi Lofton, gave visitors miniature red envelopes during the tour-and-tea event––although, there wasn't real money in them, to some visitors' disappointment.
Next in China, everyone gathered in the city squares or local temples to enjoy the year's first ringing of the bell.  Fireworks are a beloved festivity staple but have been banned in large cities due to safety and comfort concerns.  Still, everyone found a way to celebrate with friends and family, and the first day of the Spring Festival was spent dressing in new clothes and expressing best wishes to friends and relatives, either in person or by the internet and phone. In northern China, people ate dumplings, while in southern China, they ate rice cakes called niangao, and many in Hong Kong and Macau in particular enjoyed lion and dragon dances.
In the past, it was considered bad luck to clean houses or bodies on this day. People would instead wait until further into Spring Festival, a tradition still practiced by several Chinese in Cleveland. For example, one man who attended MDCHM's tour-and-tea event recounted his wife cautioning him against showering that morning, as washing one's hair is thought to wash away the good luck accrued during the festivities.
Day two involved married women returning to their parents' house and spending time with their families. On the third through the seventh day, people finally clean the mess left by the festivities and continue to visit friends and family, including the graves of those who have passed away, though some preferred not to leave their houses in case evil spirits were lurking. The eighth day was a regular work day, but celebrations continued at home.
Coming up on Feb. 17, Spring Festival's fifteenth day, everyone will commemorate the end of Spring Festival with the Lantern Festival, in which they will release lanterns into the sky, lakes, rivers, or sea. Next year, the Lantern Festival won't be until March 2, as Spring Festival itself won't start until Feb. 16. The difference in start dates from Jan. 28 to Feb. 16, is due to the Chinese calendar, which is based on the moon's phases.
"Like Easter's varying date (on the Sunday after the full moon after the March equinox)," explains the China Highlights travel agency on its website, "[Spring Festival] is on the second new moon before the March equinox." This is known as the first day of the first lunar month, which always falls between Jan. 21 and Feb. 20.
People don't have to wait until next year, however, to learn more about Spring Festival or the Chinese culture in general. Thanks to the Mississippi Delta National Heritage Area's gracious funding, the MDCHM is able to conduct tours Mon. through Fri., from 8 a.m. to 5 p.m., and weekend tours are available through appointment.  The museum is located in the Charles W. Capps, Jr. Archives & Museum, on the third floor, and can be reached at (662) 846-4780 or [email protected]. Visitors are welcome!
About the Contributor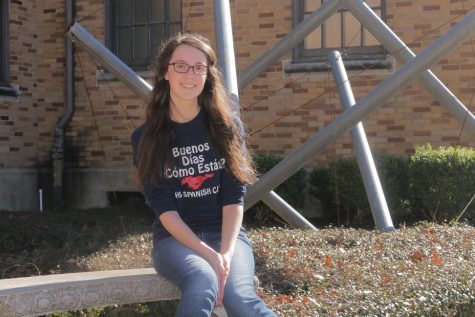 Rachel Red, Staff Writer
Rachel is a freshman majoring in English Education with the hopes of being a high school English teacher. She is from Sarah, Miss. and is involved in...