Sanders Sculpture Garden Expands to Downtown
In Memory of Dr. Ethan Schmidt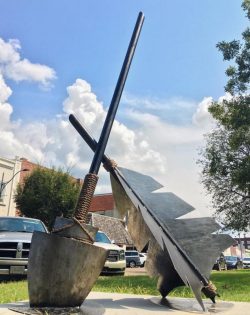 The city of Cleveland partnered with Hazel and Jimmy Sanders Sculpture Garden to sponsor five sculptures downtown along Sharpe Avenue. "Broken Arrow," created by artist and Delta State graduate, Lawson King. The piece of art is sentimental to many people within the DSU and Cleveland communities.
The arrow stands eight feet tall and made of steel and recycled rope. This sculptor was created in commemoration to former DSU professor, Dr. Ethan Schmidt, who was fatally shot in Jobe Hall on September 14th, 2015.
In an interview, King described what influenced him to create this piece, "After a traumatic day of being under lockdown, experiencing a flood of emotions we normally don't experience, I decided to react with a sculpture.  A broken arrow to symbolize my belief of nonviolence and peace, and to pay respects to Dr. Schmidt's Native American studies. The more that I worked on this sculpture, the closer I felt to the shooting."
King explained that his strong bond with the terrible event derived from his own personal past experiences. He added that Dr. Schmidt and wife, Elizabeth Schmidt, had three young children. He could easily relate to this crisis. As a young child, King's father fell victim to gun violence in the line of duty as a police officer, also leaving three young children behind. This tragedy deeply affected King in ways that are unrelateable to most.
The intense connections made by King gave him the desire and motivation to create "Broken Arrow." In remembrance of Dr. Ethan Schmidt, this piece of art has helped with the grieving processes of the artist, Cleveland and DSU communities, and most importantly — the Schmidt family.
Want more information? Visit the Sculpture Garden website:
http://thesculpturegardenms.com/
About the Contributor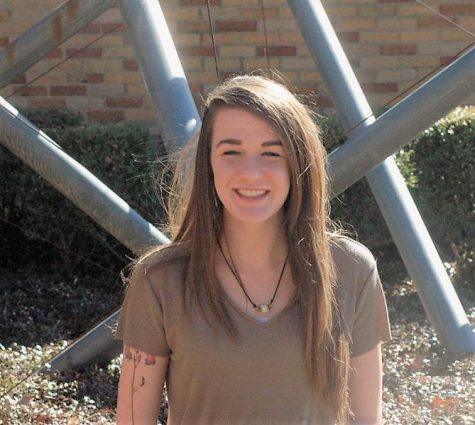 Stormy Ferrell, Publisher
Stormy Ferrell, 24, grew up in Rockwood, Tennessee. She is a staff writer and the publisher for The Delta Statement. She likes to say that the wind brought...