Taking a Knee for a Purpose
An Opinion Piece by Dearron Stewart
On Sept. 24, 2017, President Trump called African-American NFL athletes and their allies who knelt during National Anthem "sons of bitches." After his remark people are curious about standing for the National Anthem.
In 2016, quarterback Colin Kaepernick sat during the National Anthem, leaving fans and others curious about his action. However, at the next game, Kaepernick went as far as taking a knee during the Anthem.
After the game, people were curious about why he took a knee during the Star-Spangled Banner. His reply was "I am not going to stand up to show pride in a flag for a country that oppresses black people and people of color. To me, this is bigger than football and it would be selfish on my part to look the other way. There are bodies in the street and people getting paid leave and getting away with murder."
However, many people took Kaepernick's actions as a sign of disrespect for the soldiers who have died for our country.
Furthermore, on Sept. 24, 2017, basketball star Steph Curry made a remark about not attending his team's visit to the White House due to President Trump's comments about football players who chose to kneel.
President Trump took his response to Twitter: "Going to the White House is considered a great honor for a championship team. Stephen Curry is hesitant, therefore, invitation is withdrawn!"
However, the real controversy around the sports' world is the following response from President Trump: "Wouldn't you love to see one of these NFL owners, when somebody disrespects our flag, to say, 'Get that son of a bitch off the field right now. Out! He's fired."
His response left the United States and the sports' world wondering what has today's society come to. After his response, the NFL and NCAA football teams have been kneeling during the National Anthem.
Of course, some people may see it as disrespect toward our fallen soldier. However, athletes are kneeling for a purpose to take a stand against police brutality and racism in the United States.
About the Contributor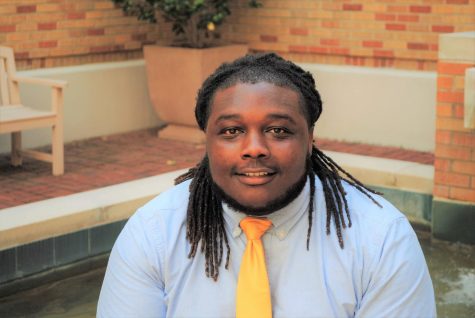 Dearron Stewart, Staff Writer
Dearron, an English Education major, transferred to DSU from East Central Community College. As his career, he is aiming to become a professional English...