Olivier Salad: History and Cooking Secrets
Olivier, a festive, traditional New Year's Eve salad, is one of the most popular salads of Russian cuisine.
In the 1860's at a French restaurant called Hermitage in Moscow, there worked a cook, Laurence Olivier. He invented the salad, which later became a classic in the countries of the former USSR. Among the ingredients were: hazel grouses, veal tongue, stew caviar, pickles, capers, eggs, fresh lettuce, and a mayonnaise-sauce served as a dressing. However, the salad recipe was kept in the strictest secrecy: no matter how hard gourmets tried to determine what exactly the French chef added to the salad, their attempts were unsuccessful.
The first mention of Olivier salad refers to 1894, and in 1897, the salad recipe was published in the book, A Guide to the Study of the Foundations of Culinary Arts. It is believed that this recipe was greatly simplified: there was no longer any tongue or caviar in it, and potatoes were added.
Salad Olivier experienced a new birth under the Soviet regime. The salad dressing has undergone significant changes as the hazel grouses, caviar, tongue, capers, and even lettuce have disappeared. Now, the salad was made from potatoes, green peas, boiled eggs, pickled cucumbers, and boiled chicken meat with mayonnaise dressing. Sometimes, boiled carrots were added to the salad. Over time, instead of boiled meat people began to use cooked "Doctor" sausage, and a salad with chicken meat was called "Stolichny" (Moscow salad). All the ingredients were cut into cubes and dressed with mayonnaise.
Since Olivier salad products were available not only in the season of fresh vegetables and fruits, but also in winter, the salad was given the same name as the cold season.
Over time, it became very popular, and people loved to cook it for the New Year. It so happened that along with the "herring under the fur coat," the Olivier salad became one of the main festive dishes.
A Million Recipes
Probably, every Soviet hostess had her own recipe for Olivier. Some added only pickled cucumbers, some preferred salted, and others used fresh lettuce. Some added finely chopped fresh lettuce or salted tomatoes; others put an apple (usually "Antonovka"), and some decorated the dish with cranberry berries.
Perhaps the key components of Olivier are only eggs, potatoes, green peas, and mayonnaise; the rest of the ingredients can vary indefinitely. It is interesting that this composition, which is now recognized as classical, has little in common with the original recipe. However, it is in this form that the Olivier salad became important to millions of people, and therefore, attempts to recreate the original recipe have not been successful.
There are so many varieties of salad that it is almost impossible to determine at what point the salad loses its right to the original name and becomes a new dish. If desired, you can find salad recipes with fruits and nuts, lamb and pork, or a smoked sausage and duck. Moreover, there is even a recipe for Olivier without mayonnaise.
The most common salad Olivier is with sausage. Sausage should be boiled, without fat, and have a delicate taste. If desired, you can replace it with ham. It is also possible to replace it with baked, boiled or fried beef and chicken. Some even make Olivier with fish, shrimp, or squid; although such variations are tasty, they can hardly be called a meat salad.
The charm of Olivier salad is in combined tastes. Potatoes, eggs, and peas are fairly neutral; salted cucumbers make a piquant sourness; carrots add sweetness; and sausage completes the composition with a salty taste. In general, the salad has a mild taste, without excessive sharpness. While improvising, do not break this harmony, but you can complement the salad with other flavors. For example, sweet and sour apple, gentle celery, brackish mushrooms, or spicy cheese. Beans, beets, asparagus, olives, and bell peppers are also added sometimes.
Cooks all over the world do not get tired of arguing about onion and whether its sharp taste is pertinent in a salad Olivier. Many believe that it is better to prepare the salad without onions, others add green or very finely chopped onions, while others tend to compromise: onion, scalded with boiling water and therefore not acute, but only sweet.
The Secrets of Cooking
First of all, all the ingredients must be cooled. Eggs, meat, potatoes and carrots are recommended to boil beforehand so that they can cool completely.
Secondly, the components of the salad should be cut as small as possible. Of course, such cutting takes time, but the salad becomes very gentle: the tastes intertwine, creating gastronomic harmony.
Thirdly, only high-quality mayonnaise should be used for dressing. Do not save on sauce. It is best to prepare mayonnaise on your own or buy a ready-made sauce from a trusted producer. The composition of the sauce should be egg yolks and vegetable (preferably olive) oil. Lenten and "light" varieties of mayonnaise will not work—attempts to make a diet dish from Olivier will not be successful, and the taste will suffer.
As you can see, there is nothing extremely hard in making the Olivier salad, but its charm is in its simplicity. Your family will enjoy this salad!
---
About the Contributor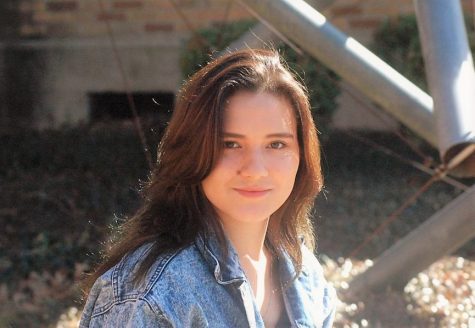 Selby Matyakubova, Staff Writer

Selby Matyakubova, born in Turkmenistan, came to DSU as a transfer student this year after two years study of English Literature in Kansas. After finishing...