Getting Fired For What You Post On Social Media?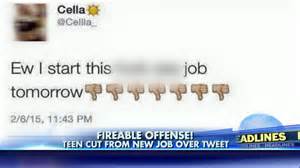 It is not unusual to see employees post stories about how they  have lost their jobs for what they post on social media. Although Social Media can be used to promote business, showcase your skills and boost clientele, it can be a harm to a person's reputation.
Some employees go to Facebook when they are upset with their employers or co-workers. When you are upset with your employer, going to social media makes the situation worse. Posting your opinion on political issues that relate to your job can be an issue because your employer could feel like you are betraying the company. If you have not informed your old company that you have a new job, it is not wise for you to post it on social media.
According to a study by Pew Research Center, social media can encourage both positive and unproductive behaviors that could impact how employees interact and produce their work.
In the study, it was examined that the social media behaviors and habits of 2,003 American adults including 795 who are currently employed on a full- or part-time basis, conducted between September 14-21, 2014. Social media is a dangerous place for people to go on a "psychotic break" and talk about their employer. Based on this research, the social media habits of employees is quickly expanding.
Most employees that participate in social media spats admit to doing for attention because thirty four percent of employees admitted to using it for this purpose. Twenty-seven percent of employees used it to "connect with friends and family while at work", and twenty-four percent used social medial "to make or support professional connections". Other possible reasons to utilize social media in the workplace were getting information to resolve work-related issues; build, strengthen, or learn more about coworkers on a personal level; and to ask questions regarding people both inside and outside their organization.
Social media can be an incredible tool for individuals to build their connections to others, whether personal or professional. However, with information like that shared in the Pew Research Center study, we still have a lot to learn when we think about how to effectively use social media in the workplace.
About the Contributor
Jalisa Thomas, Social Media
Jalisa Thomas is a junior from Clarksdale, Miss. This is Jalisa's first year as a member of The Delta Statement writing staff and social media team (she...