Satire: Democratic Rumble
Every four years bring the most exciting wrestling match, the Royal Rumble. This year, 30 democrats will enter the match for an opportunity to face the world champion, Donald Trump. Many democrats have announced their place in the match-up this year. 18 competitors have already claimed their spot in the rumble–all of them hoping to be the last democrat left standing.
Like every four years in the rumble, there are several front-runners who are favorited to outlast the competition. This year, one of those front runners is Bernie Sanders. Sanders was the runner up in last year's rumble where he lost to Hillary Clinton when she distracted him by making a college student pay for their tuition. This year, Sanders is motivated and will stop at nothing until he is the winner. He comes into the match with plenty of momentum since becoming the "Million Dollar Champion."
There are several dark horses that may pull the upset and win the match. One of those dark horses is Beto O'Rourke. O'Rourke looks to gain some momentum after losing a Texas Tornado Match to Ted Cruz for a title in the senate. He hopes to forget his loss and shock the world by being triumphant in the rumble match.
One of the best parts of the Royal Rumble match is the chance for surprise entrants. This year, there are several potential candidates to take one of the unclaimed spots. The most notable democrat that hasn't declared for the match is Joe Biden. Biden has considered announcing his spot but hasn't made it official yet. If he does enter the match, all of the other competitors will be intimidated and afraid to meet his finisher move: "The Slow Kiss (of Death) on the Forehead."
Last year's winner, Hillary Clinton, has announced that she will not be competing in this year's match after her loss to Donald Trump for the title in 2016. However, this is the Royal Rumble, so you never know if she will dust off her boots–or hard drives–and get in the ring for one last match.
Although there is an impressive field of competitors this year, the champion doesn't seem phased. Trump said that he will be waiting in Washington for the winner of the rumble. The champ stated, "It doesn't matter who wins the rumble, because whoever it is, they can't beat me. They're all a bunch of losers!"
About the Contributor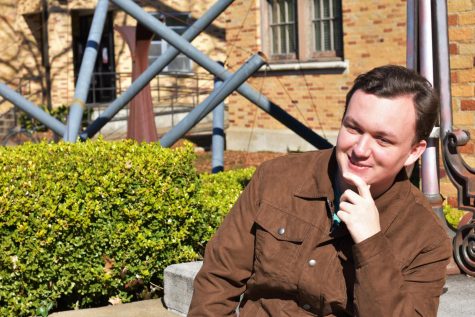 Ryan Rutledge, Literature Journal
Ryan Rutledge is a junior psychology major at Delta State University from Cleveland, Miss. He decided to attend Delta State, in his own words, "because...