Hong Kong vs the Chilling Blizzard
The video game company Blizzard has been in a lot of hot water over the past month. At the end of a Hearthstone tournament in China, Blizzard banned the winner for shouting "Free Hong Kong." Blizzard has received major backlash because of this, and people became very angry with Blizzard for two main reasons. The first: Blizzard refused to give an actual apology to Blitzchung. The second: Blizzard's actions made it seem as if they were siding with China so that they could get a part of their massive market. 
What Happened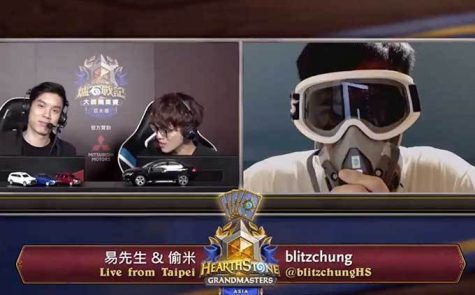 On October 6, at the Hearthstone's Grandmasters Asia- Pacific Tournament, a player by the name of Wai Chung (AKA: Blitzchung) made it to grand finals and won the tournament. 
During his post-game interview, he donned a gas mask, similar to those used by the Chinese protestors in Hong Kong, and shouted, "Restore Hong Kong, revolution in our time."
The two casters did not respond and simply hid themselves from the camera. The broadcast was then immediately cut and went to commercial.
Blizzard responded to Blitzchung's actions by revoking his prize money, and banning him from entering any Hearthstone tournament for one year. They claim that he violated the 2019 Hearthstone Grandmasters Official Competition Rules section 6.1 (o) which states:
"Engaging in any act that, in Blizzard's sole discretion, brings you into public disrepute, offends a portion or group of the public, or otherwise damages Blizzard image will result in removal from Grandmasters and reduction of the player's prize total to $0 USD, in addition to other remedies which may be provided for under the Handbook and Blizzard's Website Terms." 
Blizzard also proceeded to fire the two casters that interviewed Blitzchung. 
News of this event quickly spread across the internet, and fans soon began to express their anger towards Blizzard's approach on the matter. 
Blizzard responded by releasing a message on October 12 regarding their actions towards the matter. They said that Blitzchung used his winner's interview to promote his "personal beliefs" instead of talking about the game.  
"Over the weekend, Bitzchung used his segment to make a statement about the situation in Hong Kong—in violation of rules he acknowledged and understood, and this is why we took action."
Many people read this quote and saw it as Blizzard saying that "by wearing the mask and shouting 'Revolution!'" Blitzchung is offending others and making Blizzard look bad, which is a violation of the rules. Of course the "people that are being offended," in this case are corrupt Chinese government officials. And this only painted a bigger target for Blizzard. Now people are starting to believe that Blizzard supports the Chinese government like many other american companies such as Apple and the NBA.
After a lot of push-back, Blizzard eventually returned the prize money to Blitzchung and reduced his suspension to six months.
Blizzard's "First" response
In their response on Oct. 12, Blizzard tries their best to sound reasonable and fair in their remarks. But unbeknownst to most people, this was actually Blizzard's second response on the matter.
On October 8, just two days after the tournament, Blizzard's official Chinese twitter account posted a message that translates as follows:
"We are very angered and disappointed at what happened at the event and do not condone it in any way. We also highly object the spreading of personal political beliefs in this manner. Effective immediately we've banned the contestant from events and terminated work with the broadcasters. We will always respect and defend the pride of our country." 
This post struck a chord with a lot of people online. Unlike the second post, this first response is much more serious and angry. And to make things even worse for Blizzard, this post paints them to be prideful allies of the Chinese government.
Blizzard Fights Back
As soon as word got out about Blitzchung, fans flocked to the official Blizzard forums to discuss their views and opinions on the matter. Blizzard knew that if more people talked about Blitzchung the worse they were going to look. So they came up with a solution to combat these forum posts. 
If you posted anything about Blitzchung, China, Hong Kong etc. your account would be banned "FOR 1000 YEARS!" Yes, people were actually met with a message that read, "Your account has been banned until 3019.
To no one's surprise, this backfired tremendously for Blizzard. This led to Blizzard fans and Hong Kong protestors uniting together in order to tarnish Blizzard's name any way they could.
The Fans Fight Back
Hundreds of players deleted their Blizzard accounts to send a message to the company. In response to this, Blizzard sent a message right back. Due to the immense loss of their player base, Blizzard went to work and made it so that no one from that point on could delete their Blizzard account. This "wise" move prompted players to go back to the drawing board and rethink their strategy. Although no official solution has been found, many players have come up with their own solutions. These solutions range anywhere from, "complaining about Blizzard online," to "logging on to their Blizzard games and saying the N-word until Blizzard bans them for them."  
…
Chinese protesters also joined in by spreading a photo-shopped picture of Mei from Overwatch wearing a Free Hong Kong mask. Their goal was to make Mei a symbol of the Free Hong Kong movement which would in turn force the Chinese government to ban Blizzard products in China. Although it didn't fully work out, it did do a great job at spreading their cause.
…
The hatred that Blizzard received over this incident was not just limited to people over the internet. A handful of Blizzard employees joined in on the protests as well. Outside of Blizzard's main office in Irvine, California lies a statue of an orc with various phrases written around it. In an act of protest, some unknown employees covered up phrases such as "think globally" and "Every voice matters."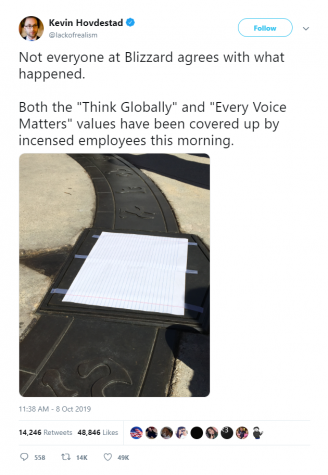 And Blizzard's employees didn't stop there. To show their support towards the Hong Kong movement, some employees staged a walk-out protest around the same statue. They all held umbrellas to symbolize how Chinese protestors use umbrellas to shield themselves from teargas.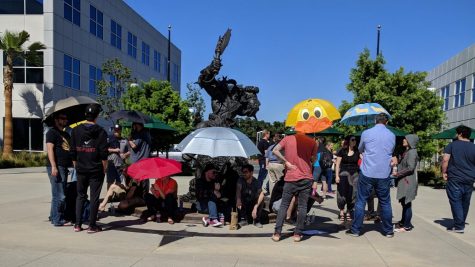 Lastly, as if things couldn't possibly get any worse for Blizzard, this whole ordeal just so happened to take place weeks before Blizzcon. People came from all over the country and even the world to show their support towards Hong Kong. There were Mei cosplayers wearing masks, people selling "Free Hong Kong" t-shirts and, of course, people came dressed as Winnie the Pooh.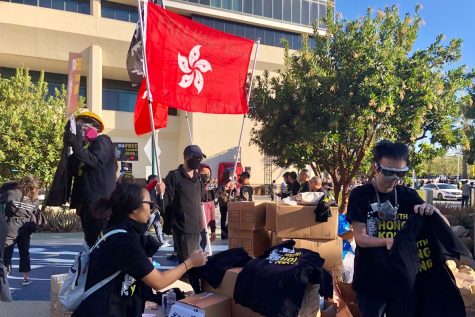 Blizzard's Response at Blizzcon
  On November 1, during Blizzcon's opening ceremony, Blizzard President J. Allen Brack came out to address the ongoing Blitzchung incident. He responded with, "We moved too quickly in our decision, and then, to make matters worse, we were too slow to talk with all of you. We didn't live up to the high standards we set for ourselves. We failed in our purpose."
Brack continued:
"I am sorry and I accept accountability. What exactly is our purpose? BlizzCon is demonstrating it as we speak. We aspire to bring the world together in epic entertainment. I truly believe in the positive power of video games.
When we get it right, we create a common ground where the community comes together to compete, connect, and play, irrespective of the things that divide us. BlizzCon has people from 59 countries all around the world at the show today. That is amazing. That is the positive power of video games — to transcend divisions around us. We will do better going forward. But our actions are going to matter more than any of these words. As you walk around this weekend, I hope it's clear how committed we are to people expressing themselves.
We've seen many of you expressing yourselves this morning. 
Today you're going to see a lot of the hard work of the Blizzard team. I am personally so proud of what we are building and I hope you love it too. Thank you for joining us."
Attendees initially replied to Brack's statement with applause and praise. But fans began to speculate Brack's remarks as the weekend went on. They claim that Blizzard's words were "lies," "empty words" and above all else "non sincere." 
People's main complaint with the response was that Blizzard never mentioned Blitzchung or China by name. It seemed as if they were trying to act sincere without actually supporting either side. This way they could still work with the Chinese government while looking as though they care about the people. Fans were also angered by the fact that they did not apologize to Blitzchung or even shed light on his punishment. 
Blitzchung and China
On October 31, the Professional esports organization Tempo Storm announced that they would be adding Blitzchung to their Hearthstone team. Tempo Storm CEO Andrey Yanyuk mentions in an interview that, 
"We believe first and foremost in supporting players and encouraging them to engage and to speak out on the things about which they are most passionate… In many ways, we value the character and integrity of our players as much as, if not more than, their tournament placings. Blitzchung brings incredible talent, an infectious personality, and a great deal of enthusiasm, for Hearthstone as well as his community and others around him. He exemplifies what Tempo believes in, and we welcome him as an ambassador for our brand."
These protests regarding Hong Kong and China are not a recent phenomenon, and have been going on for quite some time. For a more in depth look into why these protests started I recommend watching this quick video by Vox. They go into great detail on the history of Hong Kong's legal system and why the passing of a bill could jeopardize their freedom.
About the Contributor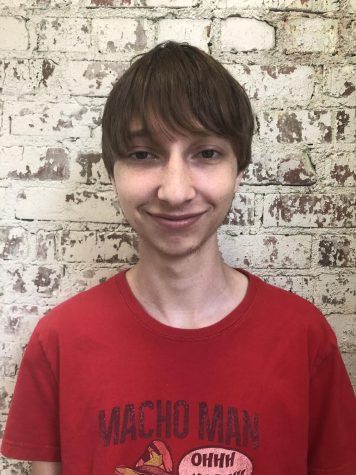 Trey Wright, Editor-in-Chief
Claude "Trey" Wright is a senior from Vicksburg, Miss., who is presently studying creative writing. Trey's interests include drawing comics, reading...