Student, Athlete, Entrepreneur, and Philanthropist: The Story Behind the Davontre Henderson Foundation
"I do this for my mama" is a saying not unfamiliar to Delta State student Davontre Henderson. As a full time student, stellar DSU football player, campus leader and passionate philanthropist, it should come as no surprise that Davontre makes his mama proud on a daily basis.
Around campus, Davontre certainly stays busy. He serves as the Director of Multicultural Affairs for the Student Government Association, the Treasurer for Phi Beta Lambda and works for Delta State's very own Student Life, all with a bright smile and a suit to match.
Don't worry, Davontre's hard work does not go unrecognized. Within the last few years, he was awarded first place at the national level in the Emerging Business Issues competition. Last month, he also won third place in the Black Historical Oratorical Speech contest with a performance that personally brought me to tears. 
Davontre has also been inducted into the Phi Beta Lambda Hall of Fame and received the Community Service Award at Delta State. 
While his accomplishments at DSU speak for themselves, it is not the only place that receives Davontre's passion and energy.
The Foundation
In 2018, at only 18 years old, he founded the Davontre Henderson Foundation, a non-profit organization that gives back to those facing poverty in his home community. He says that his uncle was the inspiration behind it all. 
"[My uncle] took me in when I was in 8th grade," Davontre says. "He did everything possible to ensure I had everything I needed. Looking back at what he had done for me, I decided to honor him by starting a non-profit organization to offer food, clothing and shelter to the needy." 
While the Davontre Henderson Foundation offers many ways to give to the community, Davontre takes great pride in the fact that he has also developed and successfully runs a football training summer camp designed to look after the community's youth free of charge. 
Giving Back to His Hometown
Located in Davontre's hometown of Coolidge, Texas, the camp originally started with only 25 participants. However, with the help of generous donations, the camp is currently able to hold up to 100 campers, "and they are fed, clothed and sheltered well," Davontre adds.
With an already growing love and talent for football, Davontre remembers seeing an NFL football player hosting a summer football camp when he was a kid. With a $40 entry fee, Davontre wanted to attend. He explains, "I didn't have any money, and my mother couldn't afford it. I thought to myself, this man is making at least six figures a year. Why is he charging kids to come to his camp?" 
And so, the idea for his very own football camp was born. "I thought to myself, I'm going to have my own camp, and everything is going to be free for all of the kids," Davontre says. 
In addition to caring for the campers, Davontre's camp also focuses on finding lessons and teachable moments in football and applying them to everyday life. 
Davontre focuses on being a leader and role model for the kids, which is a job he doesn't take lightly. He explains that teaching the campers the importance of loving one another, despite skin color or wealth, is one of his main goals. 
During the camp, "participants learn and improve football fundamentals and important life skills," says Davontre. 
While we conducted our interview over email, I have no doubt that this next line was typed with a smile. All while making new friends, Davontre explains that he teaches the campers "speed, agility, teamwork and the biggest one- love!" 
Davontre says that the camp houses "kids from all different types of backgrounds and ethnicities. We teach them to love their neighbor as they love themselves."
If the Davontre Henderson Foundation and football camp haven't inspired you yet, Davontre has also spearheaded food, clothing and toy drives as another way to provide for his community. In December, 2020, Davontre announced that his foundation had successfully run a Christmas food and toy drive. 
Along with pictures and videos posted on Facebook of Davontre, his Mama and other volunteers handing packages to a line of cars, Davontre writes, "First annual food and toy drive was successful! Thank you God. I'm full of joy. You should have seen it. We gave away 50 plates of food, 12 dozen tamales, and over 100 toys!"  
How You Can Help
While the Davontre Henderson Foundation has achieved so much, Davontre explains that, in order to do the most good, the Davontre Henderson Foundation needs to be a legally registered non-profit organization. 
He explains, "having the foundation registered legally will help us receive donations without any limitations." 
Davontre successfully raised over $1,600, but there is still more work to do. With a goal of $2,300, the fundraiser is still up and accepting donations. The GoFundMe page can be found here.
If you would like to help with next year's football camp, Davontre encourages you to email him at [email protected]. 
While Davontre has found immense success with his foundation, he remains incredibly thankful that he has been able to give back to his community, especially the kids.
"[My work is] bringing awareness around the communities and bringing people together. A lot of kids are walking around wearing my shirts from the camp with pride. I love it. I mean, it brings tears to my eyes," Davontre says. 
To conclude our interview, I asked Davontre, "If you could tell your 14 year old self anything, what would it be?" On par with his ever-present positive and driven attitude, Davontre answers, "I would tell myself to listen more… You live and you learn, and everything happens for a reason. God has a plan; trust it." 
It is abundantly clear that Davontre puts ample amounts of time and energy into what he is passionate about. He genuinely loves what he does everyday, and I think that is something any mama would be proud of. The Delta State family is proud to call Davontre one of its own, and his future is exceptionally bright. 
About the Contributor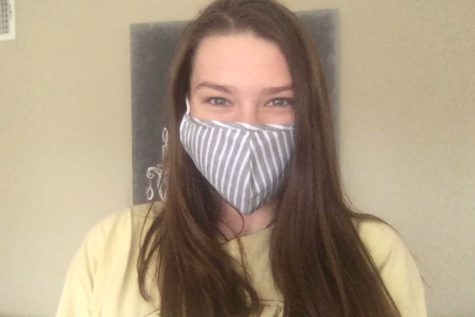 Mollie Pinion, Copy Editor
Mollie Pinion was born and raised in Greenville, Mississippi. She expresses, "I've been in the Delta my whole life." Mollie is a senior at Delta...