Green Light: Jill Cabrera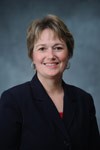 Dr. Jill Cabrera is an associate professor for the College of Education Department.
"I teach graduate-level courses at DSU for students who are pursuing a Master of Education degree (M.Ed.) or Educational Specialist (Ed.S.) degree in Educational Administration and Supervision as well as those who are pursuing a Doctor of Education degree (Ed.D.)," Cabrera said.
She has taught eight different courses since joining DSU in August 2014.
"Education tends to be a "family business," along with many social service related professions, according to her.
"My great grandmother was a one-room school teacher in West Tennessee," Cabrera said. "Two of my aunts were elementary teachers who went on to serve in leadership roles, one as a principal and the other as an elected superintendent, in Chester County Tennessee."
"I declared my education major at the end of my freshman year of college and have been pleased with that decision for three decades," she added. "Although I, as the youngest of four daughters, was the first to enter school as a teacher, my sisters have all come into the 'family business" of education.'"
Cabrera said she enjoys teaching classes that focus on instructional leadership. Schools exist for students to learn and she said she wants to "promote effective leadership practices which will improve teaching and learning in the Delta and Mississippi K-12 schools."
She joined DSU after working for Western Kentucky University from 2011-2014.
"I enjoyed my time at WKU in Bowling Green, Ky," Cabrera said. "However, I felt a real sense of 'calling,' if you will, to return to Mississippi."
"There are many devoted educators here and much need for improvement in education," she added. "I believe effective school leadership is a pivotal component toward improving the state of education in Mississippi."
She said, "DSU has numerous assets as an institution" and one of those assets is getting to work with "incredibly talented and dedicated colleagues within the College of Education and Human Sciences", as well as the rest of campus. The students she teaches work as teachers and leaders in schools around Mississippi to "learn and improve their service to children."
Cabrera has published several articles based on interviews with practicing and retired school leaders. She has also co-authored published articles with colleagues related to current issues/topics in education, finance, and Common Core Standards.
She said her daughter Katherine transferred to DSU when she started her job on campus and both "appreciate the learning environment and social aspects within a smaller university and community".
Cabrera likes different genres of music and likes to attend local events featuring "many of the amazing Mississippi musicians."
"I am blessed with a wonderful family and try to spend time with them whenever possible," Cabrera said. "My oldest daughter, Emily and her husband are expecting a baby which is due in August; having a grandchild certainly rates high on the list of interest.