About the BSU
What is the BSU? The Delta Statement is here to help you find out. The short acronym stands for Baptist Student Union and is classified as a religious extracurricular activity for Delta State's students. However, we caught up with some of the students who attend the BSU to see what they thought of it. Here are their responses: 
What is BSU in your own words?
"BSU is the best thing about Delta State,"Christy Hart, a DSU senior, said. "It's an awesome way to meet new people and create close friendships." 
"To me, the BSU has been like a safe haven on both campuses I have been a student at," Senior Kendall Morrow said. "I have met my lifelong friends in that place and had many opportunities to serve the Lord that would not have been possible without the BSU. But most importantly, the BSU has been a vessel that the Lord has used to grow closer to me and change my life completely. I am so thankful for the way the Lord has used the BSU, and the people there in my life my past four years of college. I am not looking forward to leaving it behind when I graduate."
"The Baptist Student Union is an organization of students here to serve others and make God be known," senior Caitlyn Barron, the student President of the BSU, stated. "We sing and worship together, learn about what the Bible says about God and what He did for us, we fellowship together, and encourage one another." 
Why should people come to BSU?
"Everyone is searching for something, whether that be hope, peace, acceptance, direction, love, and so much more," senior Hannah Hanberry said. "Well the BSU doesn't have all that, however, we serve the God who does. I think that's why people should come, so that we could introduce them to the incredible news that is the Gospel. God has done incredible things in and the BSU facilitates the opportunity for life alternating changes."
"People should come to BSU because we love people," senior Drew McCollough said. "That's why BSU does what it does. To reach people and share the truth with them. We accept everyone and are always happy to meet new people."
What is your favorite part about BSU?
"My favorite part about the BSU is the food," said, junior Kaitlyn Bryant. "Just kidding, it's the atmosphere! People are happy to see you and want you there to get to know you."
"My favorite part about BSU is people I have met,"Barron agreed, stating. "The first people that I met when I got to Delta State were from BSU. They helped me move in and they are still some of my closest friends today."
The BSU is a student led organization: meaning that all events and occurrences are student led, student planned, and for students.  Everyone is welcomed. They offer a free lunch and devotion on Wednesdays at 12:00p.m., as well as a Monday night worship service beginning at 6:30p.m., with snacks afterwards. The BSU is open daily for students to hangout and play games such as ping pong.
There are also many different Bible studies hosted throughout the week. So, if you are looking for a good place with a positive atmosphere to plug into during your college experience: the BSU is the place to go! The BSU is located in front of the library, on South Court Street, so feel free to check it out.
About the Contributor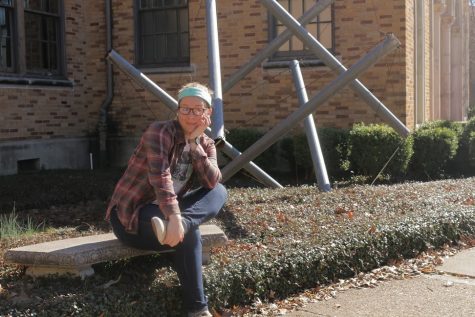 Bugg Davis, New Media Co-Editor
Bugg, a junior from Potts, Miss., is an English major with a concentration in philosophy. Before coming to DSU, she played basketball at Northwest Community...