DSU: A Home Far From Home
An Interview with Kevin Ndege
Delta State University has a glowing record of welcoming international students. Undergraduates, graduates, and post-graduates from all over the world come here for their higher education. Kevin Ndege, an MBA candidate from Kenya, shared his fears and personal difficulties as an international student.
According to Ndege, the language barrier is the first challenge. Belonging to a non-English speaking country makes adjusting to different dialects difficult.
Ndege also said many students from developing countries face difficulty accommodating to technology. Encountering technological gadgets for the first time imposes challenges for internationals.
Adjusting to American food is another challenge for international students, Ndege said. Money and the change in currency is different from many international countries.
Ndege learned this the hard way after a struggle with the vending machine. As he puts it, "cents are new to us."
In addition to these, climate is another challenge. "Unpredictable climate changes disturb the usual climate habits which we were used to be in," said Ndege.
According to some other international students, the traffic system is quite different from their countries. Instructions, signals, walkways, and crossing roads while on foot are different in the U.S.
In spite of all the fears and challenges, international students agree on a single point; DSU is becoming a home far from home.
The administration and social societies, through their welcoming ceremonies and dinners, made the adjustments of international students quite easy and comfortable.
A former international student once said, "You may start with some homesickness, but after you get attached to the DSU family, you will go home crying after ending your session here."
About the Contributor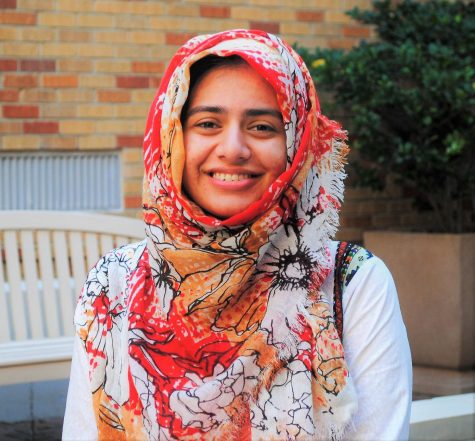 Ayesha Tariq, Staff Writer
Ayesha is a foreign exchange student from Azad Kashmir, Pakistan. Ayesha was selected from over 9,000 students to be one of 100 scholarship holder sponsored...