More Money, More Problems: College Edition
Money Management with DSU students: Tori Mallory, Raven Johnson, and Alexis Ross.
Most students struggle with managing their money responsibly during their journeys through college. A few DSU students have agreed to answering a few questions concerning their monthly spending habits. The following interview includes: sophomore athlete Tori Mallory, freshman Raven Johnson, and graduate student Alexis Ross.
---
Q1. How much do you spend a month?
Johnson: "Three-hundred dollars a month."
Mallory: "Sixty dollars or more, it depends."
Ross: "Five hundred dollars, is a rough estimate."
---
Q2. Are you satisfied with your spending choices?
Johnson: "Yes, I am."
Mallory: "I am satisfied with my monthly spending sometimes."
Ross: "Yes, I am."
---
Q3. The cash you spend a month is it an impulse buy or is it something you need?
Johnson: "Both impulse and things I need, like my text books I had to pay out of pocket for and sometimes I like to spend money on myself."
Mallory: "In-between, sometimes it's an impulse and most times I really need to buy something that I need or for my son."
Ross: "It's a necessity."
---
Q4. Would you want to learn more tips on saving, from another peer or a class?
Johnson: "Yes, I would, but I probably forget."
Mallory: "Yes."
Ross: "Tips would be nice but I don't think I would actually use them."
---
Q5. Do you want to share any tips with others on saving?
Johnson: "I don't know any tips to help others with saving."
Mallory: "Don't eat out every day or weekend."
Ross: "Put a reasonable amount of money in your savings account, or have it auto drafted from your checking's every month so you don't spend it."
---
A couple other tips that might help: Don't buy new textbooks, you can match your prices from Amazon at the campus bookstore with used textbooks. Keep an eye out for campus activities, from time to time free items and food are always handed out. Buy in bulk, check out Sam's Club where you can buy them by the box to save your money. Don't get in debt with credit cards, if you're unsure ask a guidance counselor!
Want more info on how to manage your money? Visit http://www.moneymanagement.org/Financial-Education.aspx
About the Contributor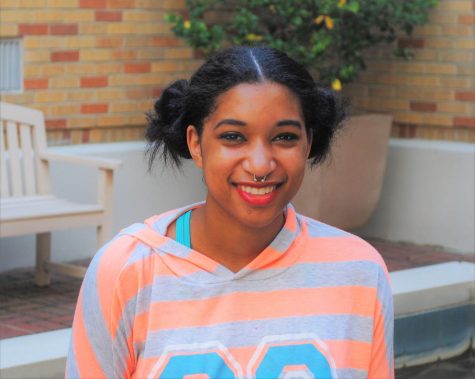 Simone Jackson, Sports Editor
Simone is the new sports editor for the Delta Statement. An English major with a concentration in philosophy and a minor in coaching, she is a native...