A Wearer of Many Hats
A Portrait of the Writer's Grandmother
Who is Flora Wilson?
My grandmother, Flora Wilson, is not your usual grandmother that people see on TV. You know, the ones that always surprise you with delicious baked goods. 
She keeps it real if someone asks her a question, so be prepared for that. Her words may seem harsh, but her message will definitely help in the long run. 
My grandmother is the type to say something like, "Don't be a frog on a log." What she means is to tell people to never be the type of person who stays in the same position; always try to keep moving. 
What are some roles that Flora Wilson play?
My grandmother has the ability to do anything. She wears all types of hats, and plays a lot of roles that not only inspire me but others as well. 
I've seen her as a doctor, caring for her patients whether they are her family or people she might know in passing. I've seen her as an amazing seamstress, making beautiful clothes. I've seen her as a therapist, willing to give anyone advice as long as they can take it.  
For example, whenever someone needs something sewn up or put together, they always come to my grandmother because she is able to make whatever they need exactly how they want it. 
Whenever someone needs advice about marriage, children or just life in general, they come to her because they know that she is very experienced and that her advice will help them through anything.
She can be anything and she can do anything. 
How does Flora Wilson influence others?
She treats a person like her own no matter who they are. She accepts them with open arms and give them the same exact encouragement that is given towards me, her granddaughter. 
She wants to see everyone succeed in whatever they find themselves doing in life. That's why she always says, "Never say that you can't; always say that you can and you will."
She's willing to help anyone, whether they be an acquaintance, a friend, a church member or even a stranger. She influences people to keep moving no matter what the circumstances. She'll even hold someone's head up even when they feel all is lost.
My grandmother is no superhero, but she is powerful. She influences and uplifts people. She is always willing to give and never looking to receive. She is most happy helping others and putting smiles on their faces. 
She may be rough around the edges, but she is loving and caring. She is someone that enjoys being herself. She never allows anything to get her down no matter what comes her way. 
That's why she always says, "There ain't no skin off my nose." This means she never lets anything stop her from moving forward.
These are the things that make her unique.
About the Contributor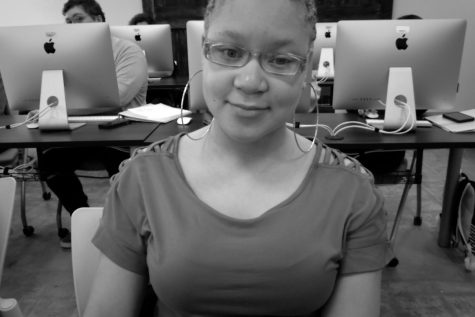 Sarai Cork, Delta Arts Journal Editor
The Biography of Sarai Cork

Sarai Cork is a 20-year-old upcoming YouTuber from Indianola, Miss., who wants to continue her education at Full Sail University...