Greek Week is in Full Effect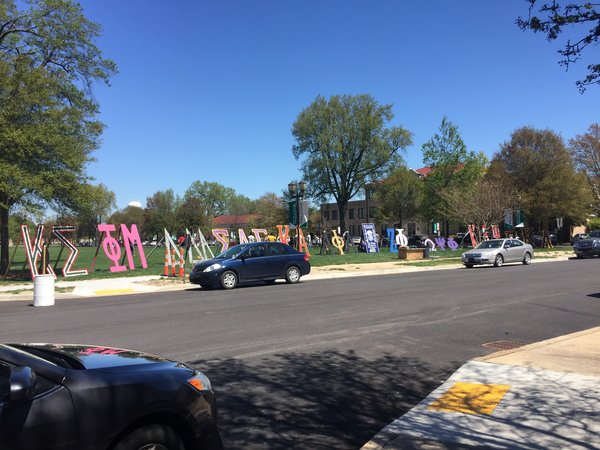 Greek Week will be held April 4-9. It is sponsored by the Interfraternity Council (IFC), Panhellenic Council, National Pan-Hellenic Council (NPHC or The Pan), and the Offices of Student Life and Multicultural Affairs.
"Greek Week is really a celebration of Greek Life on campus, but several of the events are open to the entire campus, not just the Greeks, so it's used as a recruitment tool, as well," Lindsey Pardue, SGA Multicultural Chair, said. "It's a great way to encourage unity among the different sororities and fraternities, but it's also a good way for other non-Greek students to get involved on campus and to encourage unity among Greeks and non-Greeks."
Greek Week will start off on Monday, April 4 with an all day Badge Day and Greek Awards Ceremony at the BPAC at 7. Everyone is invited to a cookout and games on the Quad at 2 p.m. on Tuesday, April 5. Also on Tuesday, students are encouraged to attend the Greek speak with Michael Carr and Arthur Calderon in Jobe Hall Auditorium at 7 p.m. They will be talking about the legal issues a college student could face from a misdemeanor DUI and drug possession to charges of felony assault.
Greek Week Step Show will be held in Walter-Sillers Coliseum at 9 p.m. on Wednesday and the entry fee is $2 for Clarksdale flood victims. Contact Michael Lipford or Pardue for the Step Show rules. Students can stop by the Union to write letters to Anna Claire on Thursday as part of "Philanthropy Day". UPC's Springfest will also be held on Thursday on the Quad and the #SpringfestSelfie from 10-2.
On Friday, the Grammy Museum will be hosting "Meet-n-Greek" student social from 6-8. The entry fee is $7 for a live DJ, pizza, and a silicone wristband after completing a survey. The last event for Greek Week is "The BIG Event" which is held on Saturday, April 9 at the Cleveland Bolivar County Courthouse from 9-2. Volunteers should contact Lisa Cooley at [email protected] to reserve a volunteer spot.
"Several of these events are big Greek Week traditions (the step show and games on the quad)," Pardue said. "Letters for Anna Claire was something I came up with this year as a new service project because we normally do Campus Cleanup, and I thought it was time for a change."
"Meet and Greek" and "The Big Event" are events planned outside of Greek Week, but we decided to include them in our schedule this year," she added.
"The Interfraternity Council, abbreviated IFC, is the campus governing body for four of DSU's social college fraternities," Jean Blackmon, member of IFC and Chapter President for Pi Kappa Alpha said. These four fraternities are Kappa Alpha, Kappa Sigma, Pi Kappa Alpha, and Sigma Alpha Epsilon. The purpose of the meetings, in my opinion, is to provide an opportunity for the chapters to work together to strengthen each chapter through networking and/or healthy competition. Additionally, the meetings also serve as a communication medium for upcoming campus and community activities."
Blackmon said, "Pi Kappa Alpha will be participating in all of the activities during Greek Week. Our chapter is especially looking forward to watching and supporting our members who will be performing in the Multicultural Step Show with members of the Alpha Phi Alpha Fraternity."
Eric Stevens Jr., President of NPHC, said, "The Pan technically consists of 9 Greek letter organizations, also known as "The Divine 9", but here on our campus, we only have 7-out-9. Alpha Phi Alpha, Alpha Kappa Alpha, Kappa Alpha Psi, Omega Psi Phi, Delta Sigma Theta, Phi Beta Sigma, and Zeta Phi Beta. All of these organizations will participate during Greek week."
Pardue said, "I've had such a great time planning Greek Week and working with Jeanna Wilkes, Michael Lipford, the Greek Council Presidents, and the chapter presidents.  It's been a challenge, both logistically and creatively; but I've learned so much in the process and have truly enjoyed it! I hope everything goes smoothly next week and that students enjoy all the events and the changes I've made."
Stevens said his fraternity, Alpha Phi Alpha Fraternity, Incorporated, will be hosting an event each day from Sunday, April 3 to Friday, April 8 for Alpha Week.