Guest at Delta Music Institute Hits Sour Note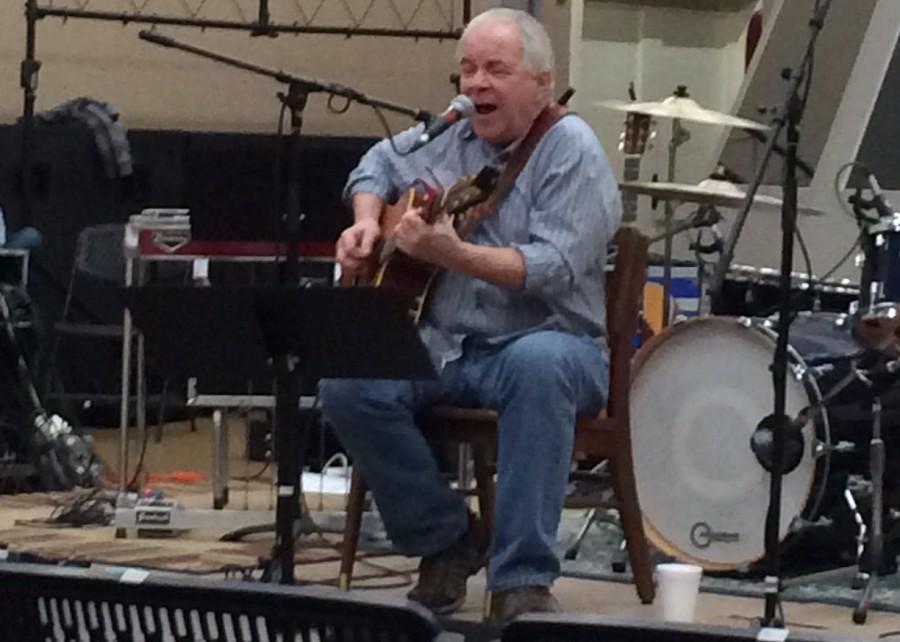 Being in a room where you are uncertain of your surroundings can make anyone uncomfortable. Picture being in a room and things don't go as planned or the scene wasn't what you expected.
The room was crowded and filled with white faces with only three faces of color among them. The performer captured the attention of everyone in the room with his colorful lyrics and unique voice. During the tuning of his guitar, he would tell jokes. It wasn't until he prepared to perform his third and final song that the atmosphere in the room changed.
The man scanned the room. "Alright, ya'll can edit this out later," he said. What he did next was tell a joke involving race, a joke that could be considered offensive.
On Feb. 27, 2016, the Thacker Mountain Radio Show (TMRS), normally produced in Oxford, Miss., hosted its show at Delta State University at the Delta Music Institute.
During the show, J. Fred Knobloch, who was the guest musician for the event, recounted a story from his youth working on a construction crew. After making the remark about editing the anecdote out, he said:
"The reason I had my job is because we had two white crane operators on this job and neither one of 'em could understand black people. And I was one of three white laborers in the laborers union. This is true. Now, I was the dumbest guy there, but they let me direct a million-dollar piece of equipment because the guy could understand what I was saying."
The comment was followed by laughter, and the final broadcast of the Thacker Mountain show did not include this statement.
"
This anecdote will not be a part of our final broadcast."
— Kathryn McGaw York, Executive Director of The Thacker Mountain Radio Hour
"The Thacker Mountain Radio Hour edits each recording carefully for time and content," Executive Director/Producer of The Thacker Mountain Radio Hour, Kathryn McGaw York said.
"This anecdote will not be a part of our final broadcast," she added, referencing the clip from Knobloch's performance.
According to York, the talent for the show was provided by its underwriter Tricia Walker, who is the director of the Delta Music Institute.
"We book an author to come read from a current work that they have published, and then we also book a guest musician," said Walker.
Walker said that Knobloch has been an acquaintance of hers for years, and for a fact, she knows he wasn't making any type of joke.
"In fact, I believe he was suggesting that he should not have been hired in the job he was referencing because of his race," Walker said. "He expressed that he felt rather odd about that, but because his supervisor thought that he could communicate better with all the workers, that's why he was given the position. It was never intended to be a joke, I do know that for a fact."
In light of the recent Winning The Race Conference and the university's diversity goals, such an incident was unexpected. According to the DSU website, the Winning The Race Conference aims to "champion and celebrate the multicultural identity of the Mississippi Delta" as well as facilitate "engaged campus and community dialogue regarding current issues related to social justice" and collaboratively promoting racial healing.
"I think Delta State is making great strides in terms of racial reconciliation and racial equity, and it's important that as we go forward, [that] our guests on campus be made aware that racial reconciliation is one of our initiatives," Walker said. "But again, in light of the fact that the issue in question was not a joke, I hope that helps set the record." 
"
It's so important to do the very thing we're doing now and have open dialogue."
— Tricia Walker, Director of the Delta Music Institute
"It's so important to do the very thing we're doing now and have open dialogue…that is one way we clear up any misunderstandings," Walker continued. "That's how we move forward."
President William LaForge attended the event and declined to comment on the issue. However, Michelle Roberts, Vice President of University Relations, said that they stood behind Walker's statement and felt that Walker addressed the questions appropriately. "We're comfortable with the answers that she provided," Roberts said.
Despite numerous attempts, the performer in question could not be reached for comment.
This hasn't been the first time that LaForge has been caught in controversy. In 2013, a similar issue occurred on campus. A student portrayed blackface during a performance, and the President was in attendance. For this incident, he responded to Wave3 News via email:
"I applauded and stood for this group (just as I did for all of the performing groups to show my support). When I learned of the offensive action the next evening, I was outraged and disappointed."
Delta State University's Diversity Mission statement states, "In the pursuit of academic excellence, Delta State University is committed to creating and maintaining an inclusive academic community that fosters productive intellectual exchange while bridging gaps in the differences in the human experience.  DSU's goal is to encourage the contributions of each individual in its learning community by providing venues for multicultural education and training in an environment of mutual respect.  Through the recruitment and retention of a diverse student body, faculty, and staff, Delta State exemplifies its understanding and appreciation of the individual fabric that creates the rich tapestry of our global community."