Pro-Trump "Chalkening" Hits DSU Campus
Students across college campuses have participated in "#thechalkening" challenge in support of Donald Trump. It started when students at Emory University wrote "Trump 2016" on their campus sidewalk  to show their support.  
The Twitter account Old Row decided to host a contest to get students to make the best "Trump 2016" artwork on their sidewalks in exchange for a gift card.
For April Fools Day we should have everyone chalk all over their campus, not really as a joke, but to see how many tears are shed. –Posted by @OldRowOfficial on Thursday, March 31, 2016.
Whoever sends in the best campus chalking tomorrow gets a $100 Old Row gift card. Together we can make Trolling Great Again. –Posted by @OldRowOfficial on Thursday, March 31, 2016.
Students at Delta State University decided to participate in this challenge on April 1.
Instead of writing the usual Trump slogans — "Trump 2016" or "Make America Great Again" —as other universities have done, they took it further by writing "Trump 2K16 #FuckYourFeelings" with a smiley face.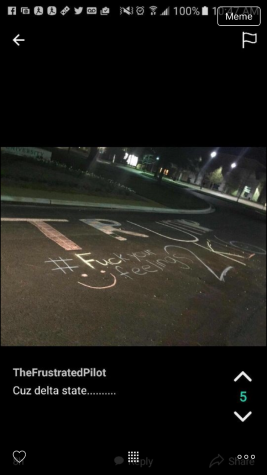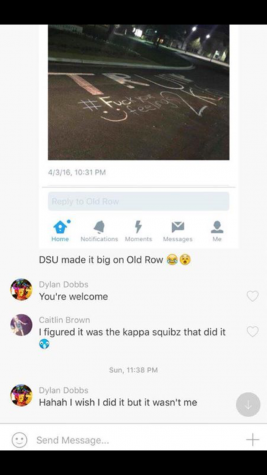 A photo of the graffiti surfaced quickly and was screenshotted by many and passed along to more. The student body spoke out about this issue.
Black male, Eric Stevens Jr., Chair President of the National Pan-Hellenic Council [NPHC or The Pan], said that one of his fraternity brothers forwarded him the photo through text message. Stevens said the photo was quite offensive.
"A majority of blacks, not excluding other minorities, do not support Trump and his political views due to the fact that they are discriminitive towards minorities," he said.
"Immediately after we [The Pan] found out about it as a whole, we established right then and right there that we had to do something about it." Stevens said that after church Sunday, April 3, The Pan gathered in the same spot the chalking was written and made a video.
"It expresses our voice," Stevens said. "Due to the fact that we are a PWI institution, we're rarely recognized or heard."
Stevens said that as they were recording their video, a group of white students rode by hollering and sticking up their middle fingers.

White male, Will Stokes said that he saw the actual artwork on the campus as well as the photo. "I knew it was a campaign online mainly brought on by the social media thing called Old Row," Stokes said. Stokes said that it all started at Emory University.
"I can understand why some people are upset because Donald Trump has said many things that can be taken as racist, bigotry, homophobic, you know everything," he said. "I understand it, but I also understand both sides."
Stokes said he can understand how someone of color, or a different nationality may be upset. He went on to say that he also understands why Trump's supporters did this in order to show their support.
"They could have done this in a much better way like doing what ordinary people do.. wear a pin, wear a t-shirt, wear a cap, not physically make their mark on campus," he said. "Could you imagine what would happen if someone wrote 'Go Bernie' or 'I'm for Hil's', you know, somewhere on campus?"
Stokes mentioned that he is not a Trump supporter.
"As far as I know about the situation, I was told that this happened a little while after, not only Go Green, but Winning The Race, so I was a bit disappointed," black male, Jeremiah Berry said. "They tried to take so many different pursuits to try avoid this kind of thing, but you know, it happens," he said.
Berry's initial reaction was anger. He said that as far as change goes, we aren't making a bigger effort to change things. "As far as being a supporter, no, but what I can say about Trump in general that he has over the other candidates is that he's honest," Berry said. "And the thing about being honest is with the government you have to keep in mind that a lot of people are bought, a lot of people are corrupted, and you know, being that he has that kind of money, being that he's in the position that he is, he can't be bought so what he's telling you is really how he feels."
Berry said that he doesn't agree with what Trump stands for.
"I think there are two things to keep in mind here. One is that it is always good for our students to be politically engaged so I was very proud of the fact that students felt comfortable expressing their political opinion and making a video of the public to view," said black male, Mikel Sykes, former Student Government Association (SGA) President.
Sykes went on to say that does feel that it is important that people do have freedom of speech.
"I personally believe Donald Trump is terrible for this country but that is my right to say that and I will defend anyone else's right to support him. When faced with ideas that you disagree with the answer is civil discussion and challenging that idea not shutting it down."
Incoming SGA President, Allie Rose Parker, agreed that students have the right to express themselves.. "I love being a part of such a diverse, yet unified student body. However, diversity can lead to differing opinions, which is normal and healthy," she said. "My hope for DSU is that our students will strive to disagree in a respectful manner. At the end of the day, we must remember that we are the DSU family."
Although some students had similar feelings about the issue, one student didn't take offense. Black male, DeQuiris Reynolds chuckled and said, "It didn't bother me."
There were more than just DSU students taking a stance on the issue. Facebook users who were alumni of DSU and community members wrote many posts expressing how they felt about it, too.
One reason I left DSU… Racism exists on that campus and it needs 2 stop — Posted by Damien Brown on Monday, April 4, 2016
I'm not surprised! More people need to stand up for themselves as these you people are! You must start somewhere. — Posted by Megan Boddie on Monday, April 4, 2016
We All Matter ✊🏾✊🏾Celia Lindsey it's gone get bad here just like it was at Ole Miss. Especially if Trump becomes president. I know I need me a weapon now. Kenisha Lindsey — Posted by Kenya S Lindsey on Monday, April 4, 2016
Wow!! Didn't know this happened. And right after the Winning the RACE Conference on campus. Tuh…… Nvm but just know #weareHERE!! — Posted by Tymeed Winslow-Martin on Monday, April 4, 2016
Hometown stand up. I'm proud of these young people for taking a stand against bigotry! This mess is getting out of hand! #WEAREHERE — Posted by Cina Lucas on Monday, April 4, 2016
Citizens of the Mississippi Delta, I call for you all to assist your brothers and sisters at Delta State University…… — Posted by Jimmy Rich on Monday, April 4, 2016
President William N. LaForge said that the university police began investigating the incident immediately after it was reported. He said that they are working to identify the responsible party or parties.
"By request, I am scheduled to meet with the African American Student Council this week to discuss their concerns and listen to their perspectives on this incident," LaForge said. "As we work to gather the facts, I ask that there not be a rush to judgment, but, rather, that this incident be the basis for open dialogue and an opportunity to reinforce our commitment to civility and respect across campus."
LaForge said that as a university, employees and students are encouraged to express their ideas freely, but they also encourage and expect good judgement and mutual respect.
"The well-being, safety, and opportunity to study and learn for all our students are of upmost importance, and we work diligently to ensure that Delta State is a place where all of our students feel welcomed and part of this university community," he said.
According to DSU statement of ethics, Delta State University is a community of individuals – faculty, staff and students – governed by integrity, civility, accountability and a commitment to excellence. We will continue to expect our entire campus community to uphold those standards, and we encourage any student or member of the university community to report, through the process provided in our University Standards, instances where these principles are not being upheld.
 "Rebecca Carroll contributed reporting to this article."